Inside the Integration: Fully Automate Your Influencer Marketing with Gatsby + Klaviyo
Partners
Inside the Integration: Fully Automate Your Influencer Marketing with Gatsby + Klaviyo
One of our most powerful integrations, using Gatsby with Klaviyo, allows you to combine Gatsby's social data and tracking with Klaviyo's automation. The result? The ability to fully automate your influencer marketing strategy! When you connect Gatsby with Klaviyo, you can track your customers' mentions (and more) in Instagram and TikTok as Klaviyo "events", which can be used as a triggering mechanism to launch email and SMS campaigns, converting them to brand ambassadors or influencers. So by using Gatsby with Klaviyo, you can use your email and SMS messaging tool for influencer marketing, too!
‍
"Allowing you to manage your different influencers, whether that be micro or larger influencers, at scale is something extremely unique." - Ian Mahanes, Partner Manager at Klaviyo


For more about Gatsby and Klaviyo, tune in to our latest episode of Inside the Integration. Brett chats with Ian Mahanes, Partner Manager at Klaviyo about why he's so bullish about the Gatsby x Klaviyo integration, how it allows merchants to customize conversations with influencers of all different levels, and why it's so important to reach influencers where they are already are (on their phones) through SMS.
‍
Who is Klaviyo?
While many think of Klaviyo as an email service provider, it is so much more! Klaviyo's origins as a customer data platform (CDP) allow merchants to aggregate customer information and "events" (like social media mentions) gathered from many different sources/platforms (including Gatsby) to create super in-depth customer profiles. Merchants can then segment based on all of this data to generate personalized emails and SMS messages.
How it works:
By connecting Gatsby with your Klaviyo account, you can pass your customers' Instagram and TikTok handles and data collected by Gatsby over to Klaviyo. But even more than that, you can use this data to create and automate email and SMS flows to fully automate your influencer marketing strategy. Whether you use them to create campaigns or build an entire ambassador program like Kulani Kinis (more on that below!), you have the data and you are ready to automate your community building.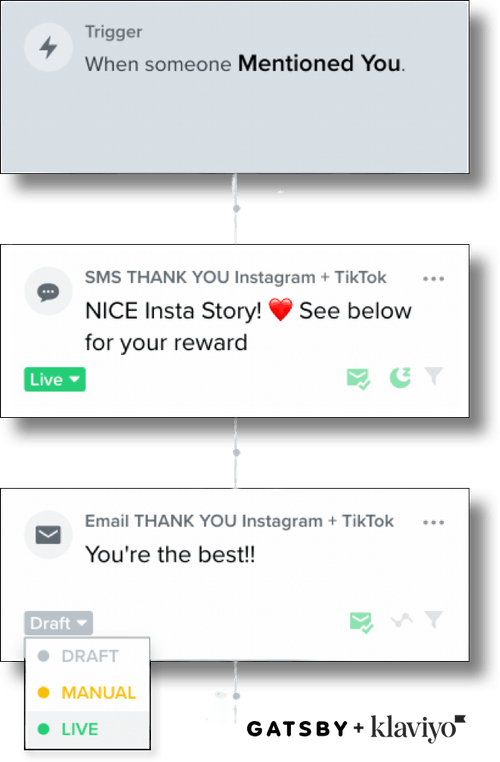 Here's how to start:
Connect Gatsby to Klaviyo Signup Forms: If you're using Klaviyo Signup Forms, you can customize them to collect Instagram and TikTok handles, where they will automatically be sent to Gatsby for analysis and insights.
Pass Gatsby Insights to Klaviyo: If you're using a different form to capture Instagram and TikTok handles, you can still pass social insights collected by Gatsby over to Klaviyo to initiate automation.
Use Gatsby's Flow Templates and Create Custom Coupon Codes: Easily launch your automated Klaviyo Flows with our Flow Templates specifically designed for Instagram and TikTok. Plus, assign Shopify coupon codes that your influencers can have to use themselves or share with their followers.
Some of the things you can do with Gatsby and Klaviyo together include:
Capturing Instagram and TikTok handles
Sharing social media insights
Tracking mentions
Creating custom events
Creating segments that can be mirrored in Klaviyo
Creating automatic rewards
Creating unique coupon codes for influencers
Tracking sales generated by influencers
Click here for a full list of all the properties and events Gatsby syncs to Klaviyo
Benefits:
While there are almost too many use cases to list, there are three main benefits to using Gatsby and Klaviyo together:
Automation: Klaviyo's triggering mechanism enables you to automate email and SMS flows to influencers, using social media data powered by Gatsby.
Customization: Gatsby's segmenting feature passes over to Klaviyo, which unlocks the ability to customize flows in Klaviyo. This allows you to create super unique messaging to your influencers/customers. For example, you could segment by follower count to automate one campaign to all users with > 20,000 followers and another for users with 1,000-19,000 followers, allowing you to tier campaigns and manage at scale.
Tracking: With Gatsby's Order Tracking feature, you can automate giving influencers a unique coupon code to share with their followers, which you can then track to see the quantity and value of orders driven by their codes.
‍
"Once the data/insights (social media mentions that trigger "events") sync to Klaviyo, the options become endless." - Brett Bernstein
Real Customer Use-Case: Kulani Kinis
Australian-based swimwear brand Kulani Kinis used Gatsby with Klaviyo to grow their ambassador program, dubbed the "Sun Chasers", to create a robust army of brand advocates out of their loyal customer base. This integration allowed them to overcome one of the challenges they faced when growing the program: the overwhelming amount of customers happily sharing on social media about their Kulani Kinis bikinis. While this is a good problem to have, automation with the Gatsby x Klaviyo integration made it possible to manage and therefore grow an entire community of loyal brand ambassadors from their Instagram and TikTok followers – boasting an impressive 17x ROI to boot! For the full case study, check it out here and here.
‍
‍
Get started!
Open up a world of growth for your influencer marketing strategy with Gatsby and Klaviyo. To get started, visit our help guide where you can find instructions for connecting your Gatsby and Klaviyo accounts.
‍
And for more about what it's like being a Klaviyo tech partner, check out a day-in-the-life with Brett (and his puppy, Sprout!)!
‍
‍