Kulani Kinis Sunchaser Program: Case-Study / Playbook
Before reviewing the playbook below, I encourage you to read Klaviyo's official case study on the Kulani Kinis Sunchaser Program, powered by Gatsby.‍
Intro
A few months ago, I was chatting with Alex, one of the co-founders of Kulani Kinis when he coined the phrase "Gatsby is community at scale".
That's because it's not about influencer vs ambassador vs affiliate.
When you start leveraging your customers' love for your brand, the conversation shifts away from commission rates to community development.
The team at Kulani Kinis is excellent at dreaming up and executing on fun ways to engage their customer base, as you'll see below.
Their ambassadors aren't just called Ambassadors, they're branded as Sun Chasers.
Publishing a TikTok video doesn't just get you an immediate discount code, but a chance to be featured as their 'Sun Chaser of the Week'.
Their communication methods span from Email to SMS to Instagram DM, utilizing Gatsby, Klaviyo and Gorgias for all these points of contact at scale.
And when they have a new product launch or a new lookbook coming out, they let their Sun Chasers know first via Klaviyo SMS and encourage them to find their favorite page from the lookbook and share it on social.
To fan the flames of a budding community, brands need tools to manage these engagements at scale with automations. That's what we built at Gatsby. Kulani Kinis is the perfect example of how everything can come together to boost new customer acquisition while also boosting LTV at a lower cost / higher ROI. And I'm proud to show off this example.
The Gatsby + Klaviyo integration has helped Kulani Kinis automate the day-to-day management of their Kulani Sun Chasers brand ambassador program and turn customers and influencers into their brand advocates. How does it work?
Their Program
Step 1: Collect Social Handles From Customers
Gatsby connects with the Klaviyo forms on their website to collect Instagram and TikTok handles that their customers submit. Klaviyo forms like this one on their Post Purchase / Order Confirmation page:
Or this one on their Sun Chaser landing page:
‍
These opt-in rates are about 5% and 30% respectively, which are great!
‍
Step 2: Review Insights
As soon as a customer enters their social handles into a form, those handles sync with the brand's Gatsby account so they can see relevant social metrics on each customer. Metrics like:
# of Instagram Followers
# of TikTok Followers
All the keywords in their Bio
Public Profile Photo
and more
‍
Step 3: Create Segments & Coupon Codes
Kulani Kinis creates customer segments and generates shareable Shopify coupon codes in Gatsby that get auto-assigned to each of their customers in that segment.
So for example, all customers with > 50,000 Instagram Followers might receive a special coupon code called Over_50K_IG. Don't worry, these codes don't go out automaticlaly, they are simply sent over to Klaviyo as a property that can be added as a variable to an email or sms flow.
Every code in the coupon code set is unique per customer / influencer, and it uses that influencer's Instagram Handle as their code.
This code is designed to be shared, so the influencer can share it with their followers and every order and dollar they drive gets tracked.
‍
‍
Step 4: Instagram & TikTok data syncs with Klaviyo
Gatsby immediately syncs all this information to the other tools in the brand's marketing stack. In Kulani Kinis' case, they're syncing this information back to their customers' profiles in Klaviyo and Gorgias.
We have similar integrations with LoyaltyLion, Stamped, Attentive, Omnisend, Talkable, Yotpo and more. Below is a screenshot of some of the attributes and custom properties that Gatsby syncs back to Klaviyo:
‍
Step 5: Invite Past Customers To Apply to Your Program
Send out a campaign to all your past customers, it can look something like this:
Variant 1
Subject: Sign up to become a Sun Chaser ☀️
Body: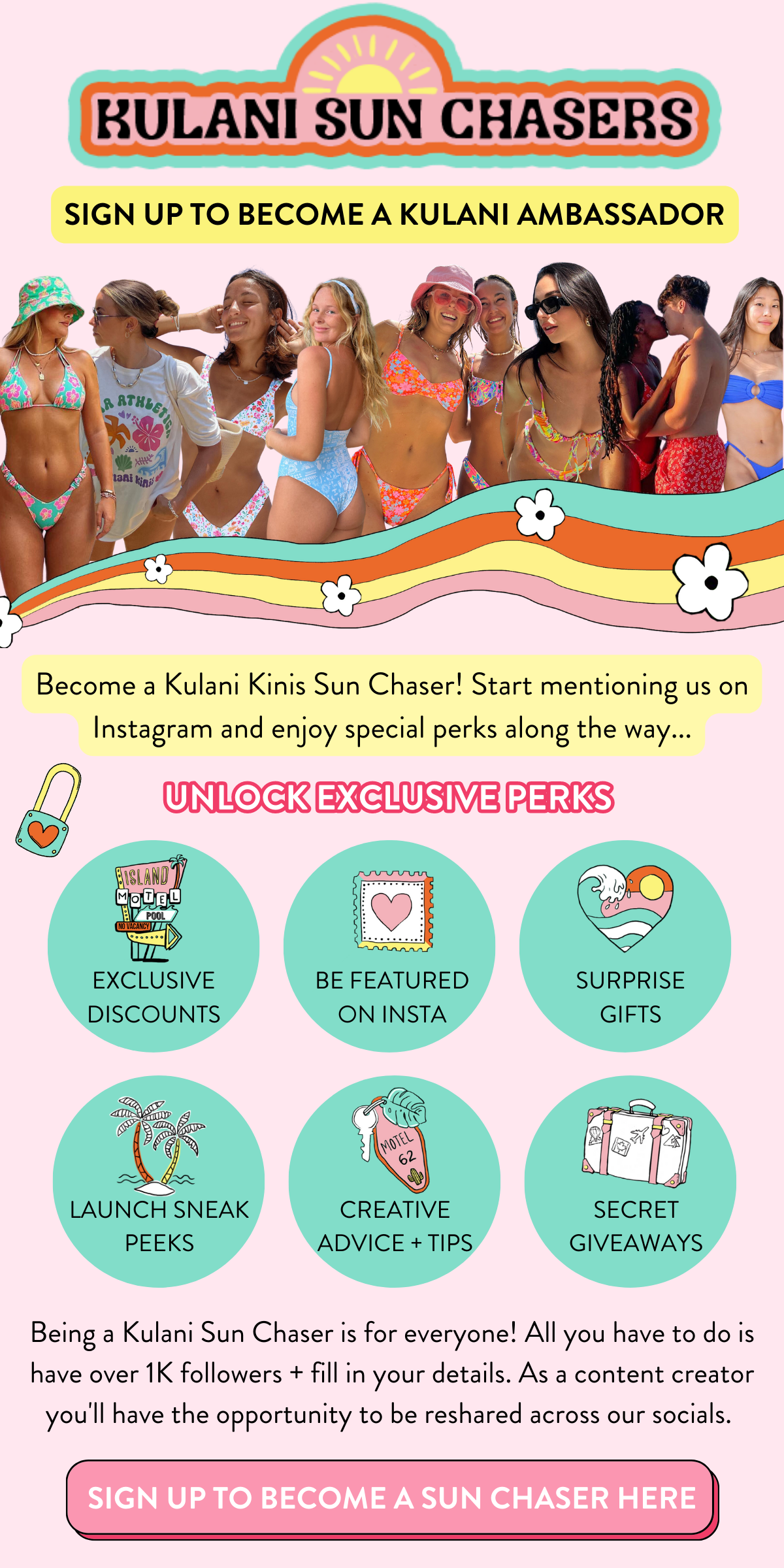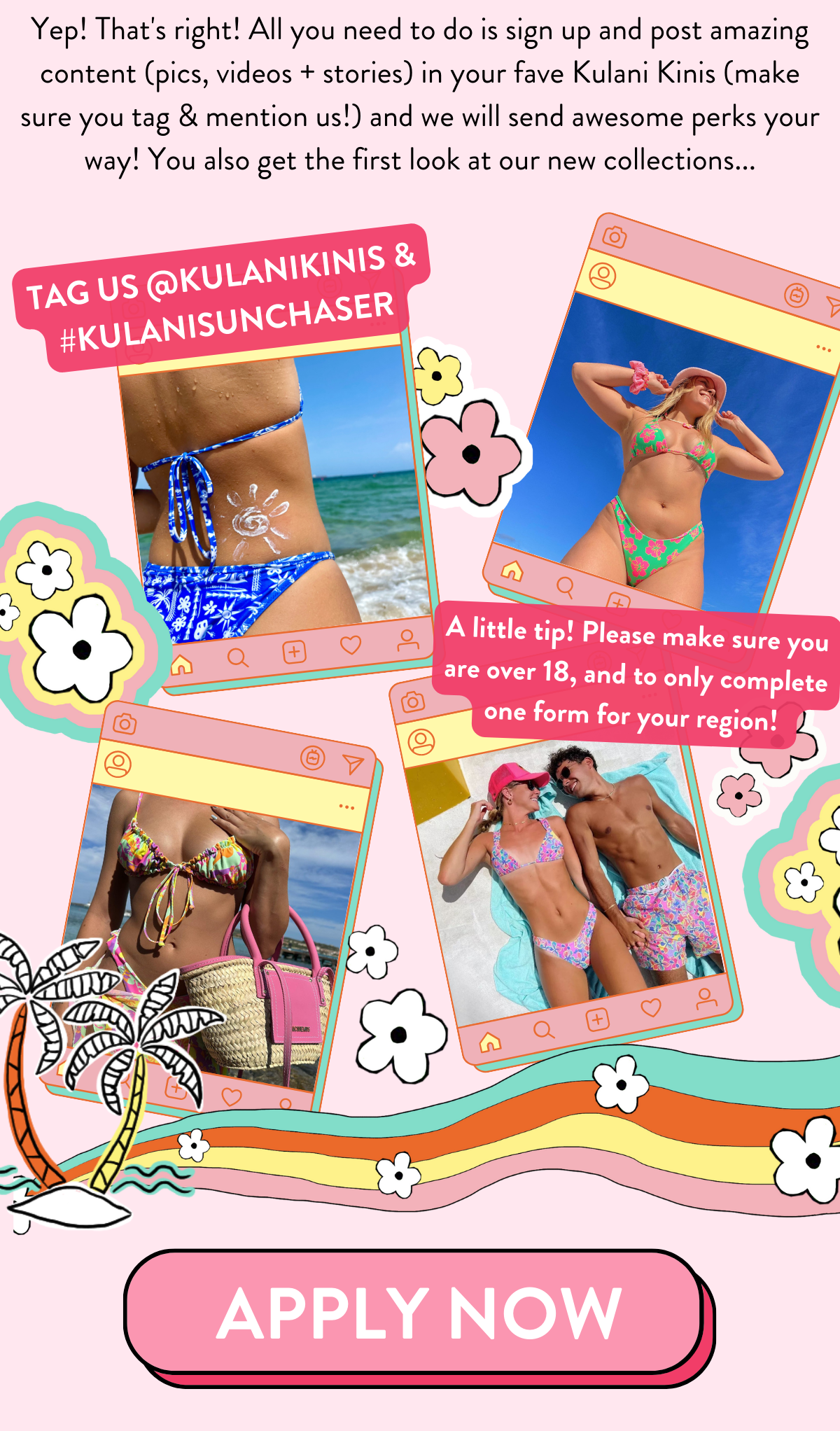 Variant 2 - show the opportunity to be seen by tagging the brand
Subject: Spotted in Kulani Kinis ☀️
Body: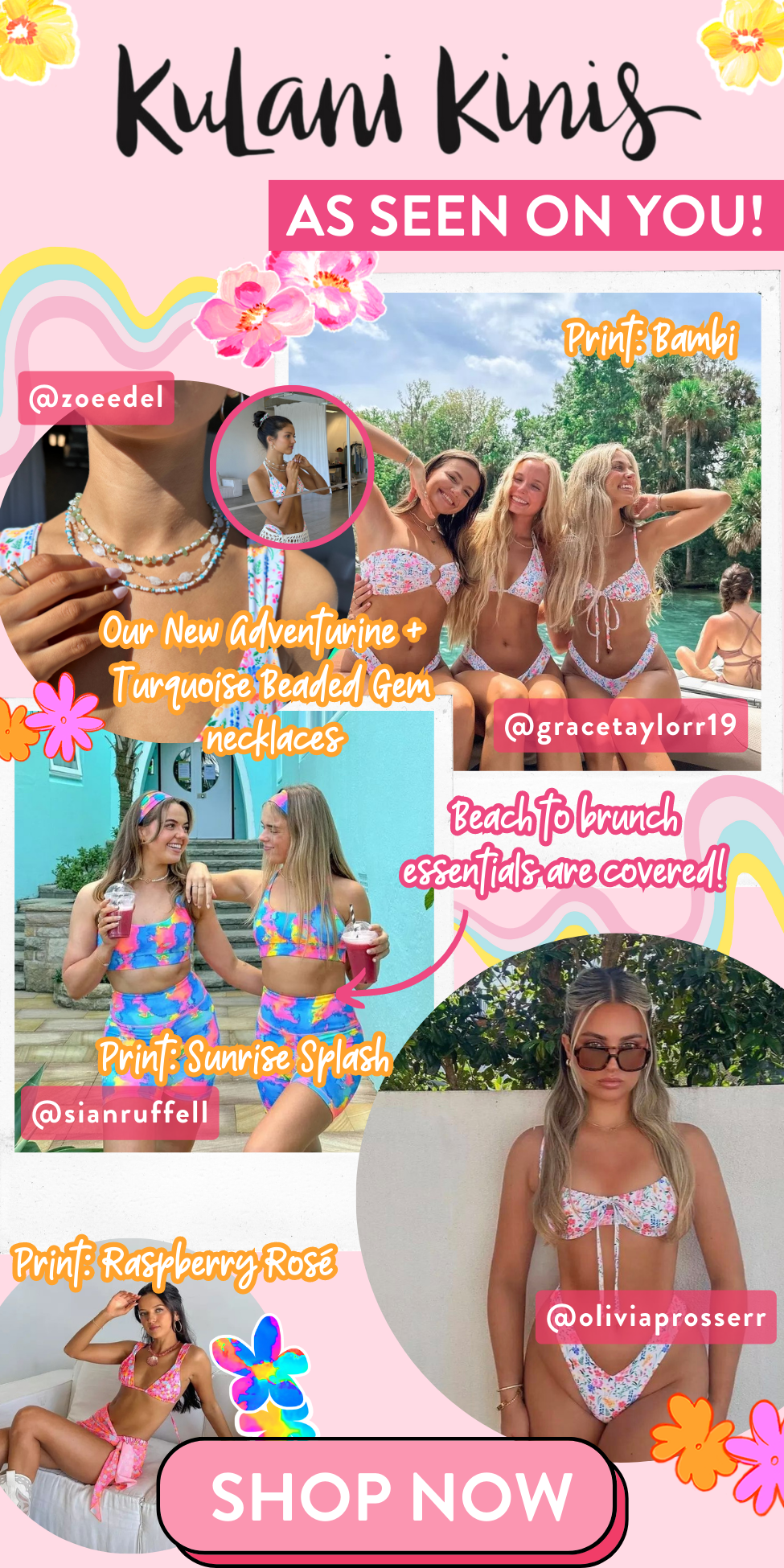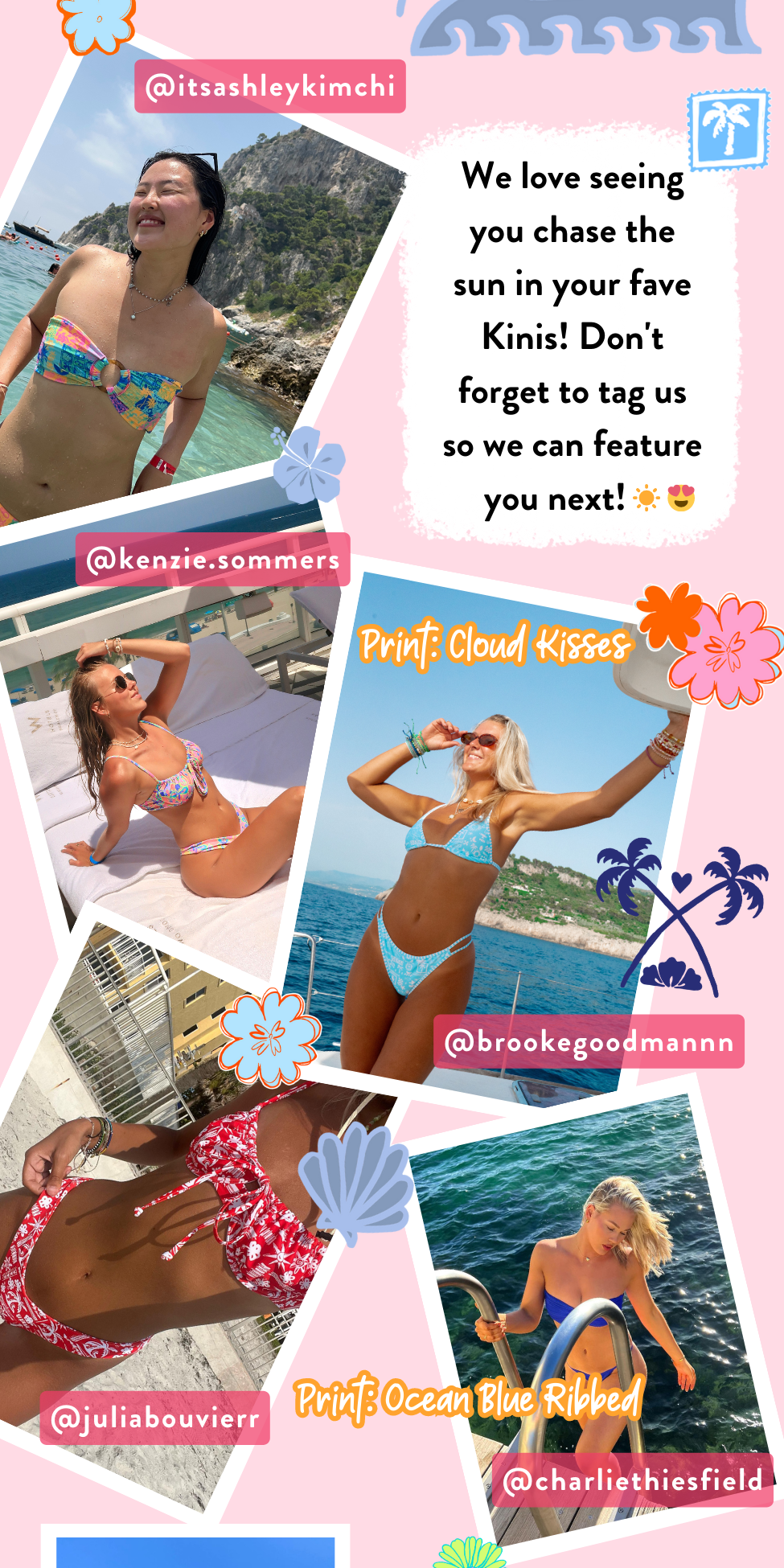 Step 6: Trigger Klaviyo Flows to Automate Ambassador Program
Flow 1: Collab Offers
This social data, like # of Instagram Followers and Shareable Coupon Codes are used to create Segments, Campaigns, and Flows that streamline a lot of the manual work typically required for ambassador and community programs.
"We automatically redirect all collaboration enquiries from DMs and emails to our Ambassador Page. Using the Gatsby x Klaviyo integration, each influencer who signs up receives an automated welcome email and discount code to share with their followers. Macro influencers with 150,000+ followers receive a $150 voucher (and a notification to review their profile is sent to our social media team), whilst smaller influencers receive vouchers ranging from $25 - $100 based on their follower count. To keep ambassadors engaged we run regular & exclusive content creation competitions on Instagram and TikTok and set up rewards to incentivise continual mentioning of our brand. The benefit of this is twofold; we create a community at scale for customers and influencers who want to grow their following and engage with our brand, and in return we receive rich UGC to reshare on socials and invaluable advocates for Kulani Kinis." - Kirsten Laurendet, Knowledge, consulting & digital marketing, Kulani Kinis
‍
Kulani Sun Chasers receive a series of emails and SMS messages explaining how to redeem the voucher, share content, and pass on savings to their followers.
Since the brand's key demographic – young women in their 20s and 30s – are far more likely to be on their phones than at a computer, text messages sent using Klaviyo SMS are used to give friendly reminders. With six influencer tiers and multiple touchpoints, the welcome flow looks pretty wild, but this complexity is exactly what Klaviyo's flow builder was designed for.
Incentives and rewards are used to encourage customers to keep posting and sharing content, to amplify the brand's message. These classic gamification tactics are highly effective.
Flow 2: Rewards for Instagram UGC
This is where all the value comes together, automatically triggering an email or SMS when a customer mentions you on their Instagram or TikTok.
‍
In the case of Kulani Kinis, they are giving a reward upfront for applying to the program, and looking at Instagram and TikTok mention events as entries into their Sun Chaser of the Week program. This is working really well for them! You can see how excited their customers get when they win the coveted spot!
‍
Step 7: One-Off Campaigns
This is one area that Kulani Kinis does especially well! They use their Sun Chasers to promote new product launches, share pages from their lookbook, and drum up excitement about product drops and new styles. They often use Klaviyo SMS to run these campaigns. Kirsten from Kulani KInis explains these campaigns below:
Campaign Example #1
A week before the launch of their 'Under the Sun' Collection, they launched an exclusive Instagram competition for their Sun Chasers, asking them to share a lookbook of the collection with their followers. They sent out an email and SMS to their Sun Chaser list with the details of the competition:
‍
From pushing 1 x email and SMS to our Sun Chasers across their 5 x Klaviyo accounts, they received over 450 story mentions promoting the collection/resharing the flipbook across their 5 x Gatsby accounts (USA, AU, CA, UK, EU). This was all done for the chance to win just 1 x $100 voucher and PR pack.
Here is a snapshot of their story mentions from our USA Sun Chasers after pushing the competition on Klaviyo (the peak on the right hand side):
‍
Off the back of this they got 7,500 views on their Flipbook:
‍
Here are two examples of the IG story content they received from the competition:
‍
Campaign Example #2:
They run regular TikTok competitions for our Sun Chasers, which they push via Emails and SMS messages sent to their Gatsby list inside Klaviyo. Gatsby has the ability to track certain hashtags on TikTok, so they then use Klaviyo to send automated thank you emails and vouchers to Sun Chasers who enter.
‍From pushing just 3 of these competitions, the #kulanisunchaser now has 3.6 million views on TikTok.‍
See e.g. the recent 'Under The Sun' TikTok competition which they launched via an email and SMS
‍
For the chance to win $100 and an Under the Sun Prize pack they received over 50 TikToks using the hastags #kulanisunchaser and #underthesun tagging us @kulanikinis which we can now reshare on our page.
Here are some examples of content they received:
"We were searching for a way to acknowledge micro-influencers who were providing us with valuable UGC, but who we no longer had the capacity to interact with individually. Gatsby provided us with a scalable solution to automate this process whilst also retaining a personalised connection with these brand ambassadors." - Kirsten Laurendet
Results
Instagram followers have doubled in one year to over 585,000
From pushing just 3 of these competitions, the #kulanisunchaser now has 3.6 million views on TikTok.
Automation has allowed the Social Media team to focus on doing more valuable work
Received a total of 9,646 'mentions'/content pieces from Sun Chasers tagging @kulanikinis on Instagram
13.5% of all Influencers in the Sun Chaser program have mentioned us at least once on Instagram
33% of Influencers signed up with 50,000+ followers have mentioned us at least once on Instagram
10% of all customers signed up to the Sun Chaser Program program have placed an order in the last 6 months using their welcome voucher
In the last 6 months they have already made a return of 17x the annual cost of Gatsby
"During the past 6 months, our Sun Chasers have placed 2,244 orders with us worth $197,000 USD (net of any discounts) for themselves from initial purchases upon signing up to the program alone, and they've driven an additional $230,000 from 3,336 orders coming from their followers. Gatsby's 17x ROI doesn't even take into account subsequent purchases made by Sun Chasers, the value in the UGC, nor the time saved from being able to automatically track and scale our community." Kulani Kinis review on Gatsby Shopify App
The Klaviyo sign up form on our USA Sun Chaser Ambassador page has a 35% submit rate and our post purchase sign up form has a 6.8% submit rate
Consistent open rates of over 50% on Sun Chaser Campaign Emails
Click through rates of over 10% in our Sun Chaser SMS campaigns
‍
For more information on Gatsby + Klaviyo and this case study, please reach out to us.
If you're a brand doing upwards of $1M in annual revenue, in a vertical that lends itself well to social media, and have customers that love your products, this strategy should work for you as well.