Inside the Integration: Connected Social Support with Gatsby + Gorgias
Partners
Inside the Integration: Connected Social Support with Gatsby + Gorgias
Using the Gorgias / Gatsby integration you can layer in Shopify and Gatsby data onto your Instagram DM support tickets. It works by merging email addresses onto Instagram DM tickets. This gives your support agents the tools they need to provide faster and more personalized social support that syncs across your marketing stack.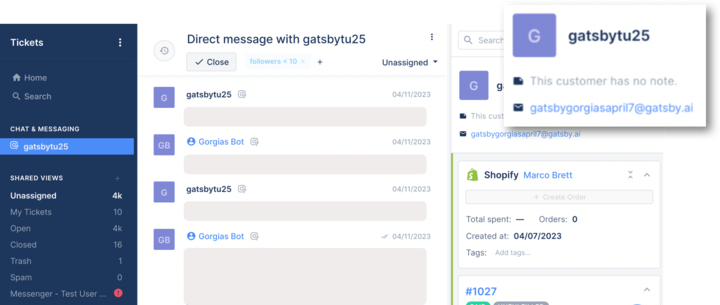 ‍
Now, when you receive a customer service question by Instagram DM, your agents will be able to see the customer's entire Shopify profile, immediately catching them up to speed on the customer purchase history. Taking it one step further, the support ticket triggered by that DM also gets recorded in Klaviyo, for a truly integrated support system.
‍
‍
This integration provides you with valuable social media insights, empowering your agents to offer next-level multichannel customer support. When armed with a customer's social insights, a customer support agent can create a more personalized experience, identify opportunities for influencer partnerships with real customers, and even automate rewards triggered engagement.
‍
Not only that, this integration means that your social support tickets will not be left in a silo, the ticket history will sync to Klaviyo and anywhere else that's connected to Gorgias.
‍
In an increasingly "online" world, social media is not only where customers discover and make purchases, it's also a common channel for customer service inquiries. So, being able to connect your customer's Instagram handle with their customer profile means more personalization and more efficiency, making it a better experience for all.
‍
"This is very, very powerful because now social media is a channel that's being used more often and customers are expecting that Instagram is a support channel for pre-sales and post sales." - Marco Shinouda
‍
Tune in below as Brett and Marco Shinouda, Partner Development at Gorgias, walk through this new update in a demo customer service experience.
Who is Gorgias?
Gorgias is an ecommerce helpdesk platform offering multichannel customer service from a singular app.
‍
How it works:
When you connect Gatsby with Gorgias, you're able to sync valuable customer insights like email address and Instagram data to any Instagram DM support tickets.
‍
This enables your agents to see the customer's Shopify order history when answering these social support tickets, so they can more quickly get a resolution. Furthermore, this integration also syncs the social data as well to the ticket, allowing agents to better personalize their support approach. Once you have your customer's Instagram handle, you can also use Gorgias rules to automate rewards and thank you's when they mention you on Instagram.
‍
Benefits:
This integration supercharges your customer support capabilities, allowing for a more efficient, seamless and personalized experience. Some of the things you can do using Gatsby and Gorgias include:
Sync the Instagram DM Support tickets with Shopify, Klaviyo and more
Tailor the support experience based on a customer's level of influence
Identify potential influencers for your brand
Track customer mentions
Automate rewards when customers mention the brand
‍
"Having [the Gatsby x Gorgias] integration would show the customer support agent when a DM comes in the customer that they're dealing with, their history with the company, and understanding more about who they're actually talking to provides that extra level of support, which everyone is now looking for." - Marco
‍
Get started!
Review the 1-pager and visit our help guide to get started using Gatsby and Gorgias. The guide shows a video-walk through of the full integration, step-by-step.