Inside the Integration: Reward Your Customers and Increase Customer Engagement with Gatsby + Stamped
Partners
Inside the Integration: Reward Your Customers and Increase Customer Engagement with Gatsby + Stamped
Gatsby and Stamped are perfectly aligned to help your brand build community and grow organically through customer engagement. This integration allows you to turn your customers into brand advocates through the use of rewards points. By adding a social component to your loyalty program, customers can win rewards points by sharing their Instagram and TikTok handles, mentioning your brand on those platforms, and so much more!
‍
"From a brand perspective there's no better way to make your brand more sticky and grow so organically" - Annette Snow
‍
Go deeper inside the integration with Brett and Annette Snow, Stamped's Partner Manager, as they discuss how Gatsby and Stamped work together to enhance the e-commerce experience for both the customer and the merchant. Plus, watch the video to learn a super cool fact about Annette's career pre-Stamped (hint: she was on a different kind of team).
‍
‍
Who is Stamped?
Stamped is a reviews and loyalty platform dedicated to growing brands through establishing credibility and trust while giving customers a voice.
How it Works:
By connecting Gatsby to your Stamped account, you can pass Instagram and TikTok handles collected through Stamped over to Gatsby, where we provide tracking on events such as mentions, which you can then use to initiate more rewards. As long as your customer is in both your Gatsby and Stamped accounts (with the same email address), you can get started collecting handles, tracking mentions and automating rewards! With Gatsby and Stamped together, you can give loyalty points for:
Sharing Instagram and TikTok handles: Gatsby syncs with Stamped so your customers can enter their social handles in exchange for loyalty points directly within your website's loyalty page – no separate forms or pop-ups required.
DM-ing your brand: Once a customer has shared their Instagram handle, they can accrue more loyalty points when they DM your brand's account. Not only is this a simple way for customers to gather more points, it verifies their account in the Gatsby platform and is a great way to increase your brand's Instagram engagement. Instagram's algorithm recognizes when accounts engage with each other which then increases the odds of your content showing up in your customer's feed. A win all the way around!
Tagging in Instagram Stories, posts or Reels: Encourage your customers to share your products by rewarding them with points for tagging your brand in their Instagram Stories. When they do this, you'll also be able to view their content in your Gatsby dashboard, which you can then download in high resolution and repurpose as UGC.
Mentioning your brand hashtags in TikTok videos: Similarly to Instagram tagging, you can also reward points when your customers utilize your brand's hashtag(s) in TikTok. To set this up, just identify the hashtags you want to track within Gatsby (you can select up to 5, depending on your plan), and you're ready to go. And just like with Instagram Story tags, you'll be able to view and download the hi-res TikTok videos as well. Our blog post has more details on getting started with TikTok tracking. ‍
Referring new sales: Thanks to Gatsby's order tracking and custom coupon codes, you're able to see which of your customers referred their followers to purchase from your brand. You can then reward them with loyalty points in Stamped to thank them and encourage more referrals.
Benefits:
This integration is a powerful tool for increasing customer engagement – both by inspiring more from those who are already sharing, and giving an incentive to those who might not have otherwise shared. And ultimately, the more engaged a customer is with your brand, the more likely they are to make repeat purchases, thus increasing their CLV.
"What we're doing together is so powerful because these are actions people are already taking and so it helps promote them to do more of that and engage with the brand more…Not only is it great for brand awareness but also for stickiness of your customers". - Annette
Real Customer Use-Case: Pop & Bottle
Clean coffee brand Pop & Bottle uses Gatsby with Stamped in their loyalty program, where customers can earn points redeemable for free products and exclusive access to new products when they mention the brand on Instagram or TikTok.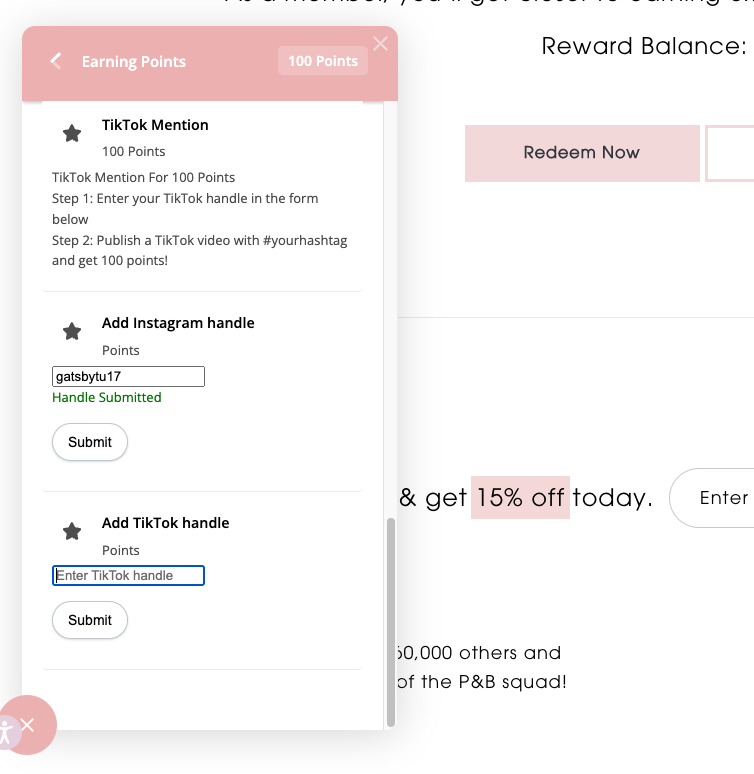 Get Started!
To get started using Stamped with your Gatsby account, visit our help guide, where we'll walk you through a full integration set-up, step-by-step, plus
‍
‍