Inside the Integration: Give Loyalty Points with Gatsby + LoyaltyLion
Partners
Inside the Integration: Give Loyalty Points with Gatsby + LoyaltyLion
Our integration with LoyaltyLion allows you to reward your customers with loyalty points for sharing their social handles, mentioning your brand on Instagram and TikTok, and more! With this integration, you can encourage brand engagement on social media from your customers while also getting key data which you can use to track posts, initiate rewards, seamlessly automate partnerships, and so much more -- with your most loyal and influential customers. The benefits are endless!
Tune in for more about using Gatsby and LoyaltyLion as Brett chats with their Partner Manager, Jack Johnson about why retention marketing is the key to success in the hyper-competitive e-commerce landscape:
Who is LoyaltyLion?
LoyaltyLion is a data-driven loyalty and engagement platform, allowing merchants to create a unique loyalty program that incentivizes customers to make repeat purchases by becoming more actively engaged with the brand instead of over-relying on financial discounts and offers. Types of engagement include account creation, sharing contact information and of course social media mentions. As Jack Johnson says, their goal is to "help merchants create very individualized moments for their customers…and really succeed in a world where acquisition is becoming more challenging" by facilitating a unique customer message. Not only does this drive customer lifetime value, it fosters a more personal and authentic customer experience – a value we share here at Gatsby!
How it Works:
When you connect your Gatsby account to LoyaltyLion, you're able to pass handles collected from LoyaltyLion over to Gatsby, where we provide tracking as well as key data to be able to quickly identify your most influential customers. But more than that, Gatsby provides the tools you need in order to automate rewards and prizes based on social media actions. As long as your customer is in both your Gatsby and LoyaltyLion accounts (with the same email address), you can get started collecting and tracking data! With Gatsby and LoyaltyLion together, you can give loyalty points for:
Sharing Instagram and TikTok handles: Gatsby syncs with LoyaltyLion so your customers can enter their social handles in exchange for loyalty points directly within your website's loyalty page – no separate forms or pop-ups required.
DM-ing your brand: Once a customer has shared their Instagram handle, they can accrue more loyalty points when they DM your brand's account. Not only is this a simple way for customers to gather more points, it verifies their account in the Gatsby platform and is a great way to increase your brand's Instagram engagement. Instagram's algorithm recognizes when accounts engage with each other which then increases the odds of your content showing up in your customer's feed. A win all the way around!
Tagging in Instagram Stories, posts or Reels: Encourage your customers to share your products by rewarding them with points for tagging your brand in their Instagram Stories. When they do this, you'll also be able to view their content in your Gatsby dashboard, which you can then download in high resolution and repurpose as UGC.
Mentioning your brand hashtags in TikTok videos: Similarly to Instagram tagging, you can also reward points when your customers utilize your brand's hashtag(s) in TikTok. To set this up, just identify the hashtags you want to track within Gatsby (you can select up to 5, depending on your plan), and you're ready to go. And just like with Instagram Story tags, you'll be able to view and download the hi-res TikTok videos as well. Our blog post has more details on getting started with TikTok tracking.
Referring new sales: Thanks to Gatsby's order tracking and custom coupon codes, you're able to see which of your customers referred their followers to purchase from your brand. You can then reward them with loyalty points in LoyaltyLion to thank them and encourage more referrals.
Benefits:
Using Gatsby and LoyaltyLion together is a great way to increase brand engagement both on and off social media. Your customers will be more inspired to share about your brand on their social channels, which increases your engagement, and helps boost brand awareness — their followers will see your brand mentioned and hopefully check you out as well. And all of this ultimately drives conversions to increase customer lifetime value. Best of all, with LoyaltyLion you don't need to resort to discounts in order to drive repeat sales.

Real Customer Use-Case: Beddy's
Bedding brand Beddy's uses both Gatsby and LoyaltyLion in their Cozy Club Rewards Program, offering rewards points ranging from referring friends and making purchase to engaging with the brand on Instagram and TikTok by tagging posts and sharing their handles. When a customer accrues points from these actions they can use them to redeem gift cards up to $200.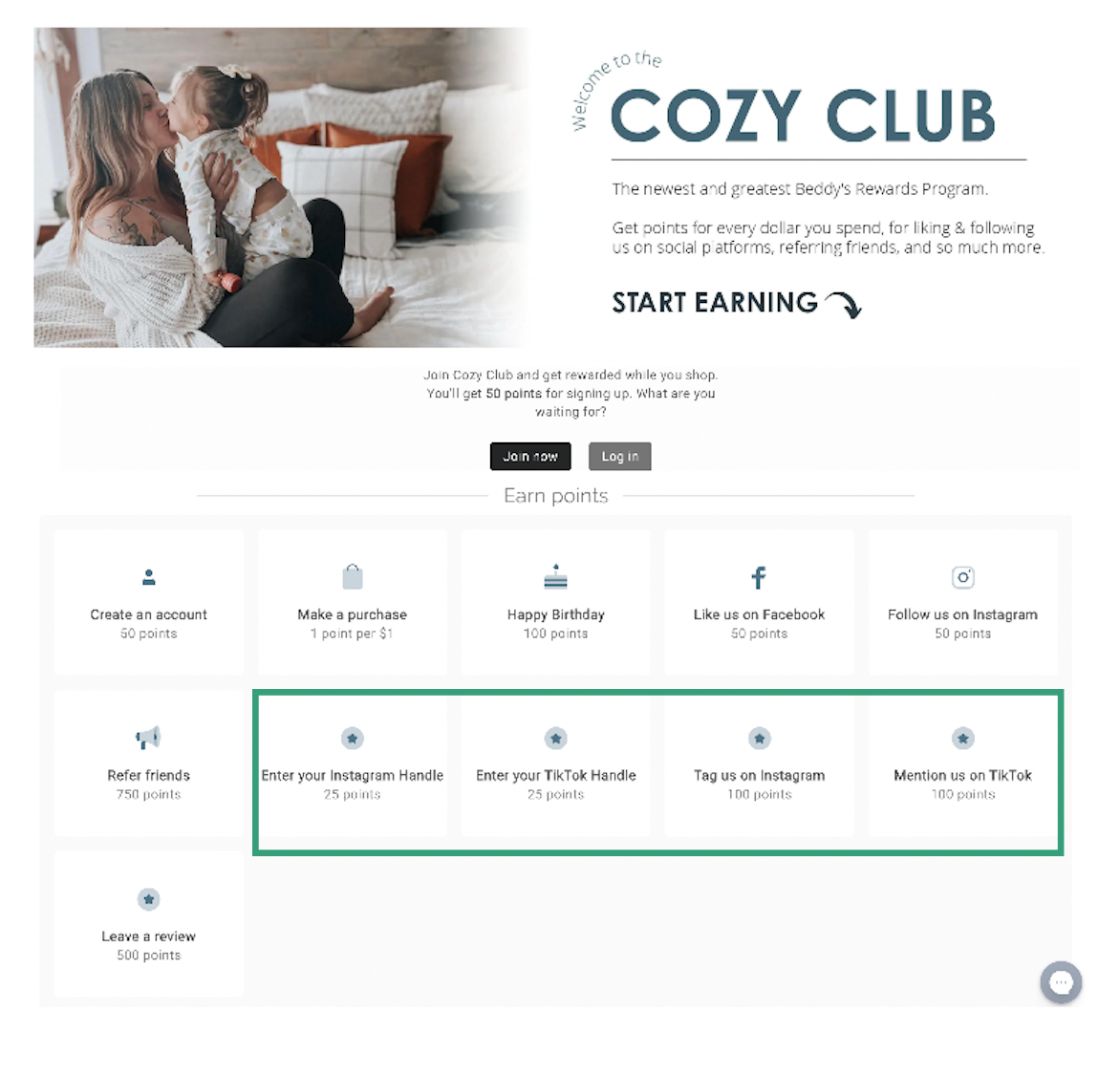 Get Started!
To get started using LoyaltyLion with your Gatsby account, visit our help guide, where we'll walk you through a full integration set-up, step-by-step, plus