Lucy & Co. achieves 5x Sales ROI in first 30 days and growing fast
Lucy & Co. makes the most "beautiful, high quality dog goods" in the market. Learn how they use Gatsby, along with Klaviyo, Attentive and Gorgias, to energize, manage, and scale their ambassador community.
Not familiar with the brand yet? Watch as our team's dog opens a box of Lucy & Co. goodies!
Executive Summary
The company achieved a 5x ROI in their first 30 days after moving their ambassadors to Gatsby for automations and scale.
Below you'll see specific strategies and workflows they designed for a successful launch of their new ambassador program in under 3 weeks.
Integrations
ROI Calculation
ROI is calculated based on sales revenue from their ambassador program divided by Gatsby spend. The 5x ROI figure doesn't account for the value of the UGC repurposed in ads and on-site, nor the impressions, engagement, reach, or time saved with automations.
---
Problem
They had been running their ambassador program on another influencer platform for the past few years. And while they had about 300 active ambassadors, they needed a way to reenergize them.
"We were seeing a decrease in engagement in our current program and we were looking for a tool that allowed us to be nimble and innovative while also helping us further leverage other platforms in our marketing stack."
Anna Knutson Director of Marketing
They approached Gatsby to address their three main needs:
1. Flexibility to engage and encourage their community in new ways
2. Scaling the program to reach more customers through automations
3. Connecting customer social engagements with Klaviyo & Attentive
"Our goal was to build a program that we could automate and iterate on easily over time as we respond to the changing influencer and ambassador space."
Anna Knutson Director of Marketing
---
Solution
We worked with the Lucy & Co. team to design & launch their new ambassador program within 3 weeks. This included the following steps:
Migrate existing ambassadors to Gatsby, mostly larger influencers
Turn customers into ambassadors post-purchase
Turn customers into ambassadors on a Landing Page
Design a new program for their existing ambassadors
Design a separate program for new ambassadors (customers)

Who will qualify
What they'll earn for posting on Instagram or TikTok
What they'll earn for referring sales through their unique code
And then lastly we helped them translate these programs into Klaviyo Flows and Attentive Journeys for automated ambassador management.




"Gatsby runs ongoing communications through Klaviyo and Attentive, our email and SMS partners, which is what allows us to iterate so quickly. "

Anna Knutson Director of Marketing
Sampling of their Forms and Flows:
How their signup form looks on the Shopify Post-Purchase page: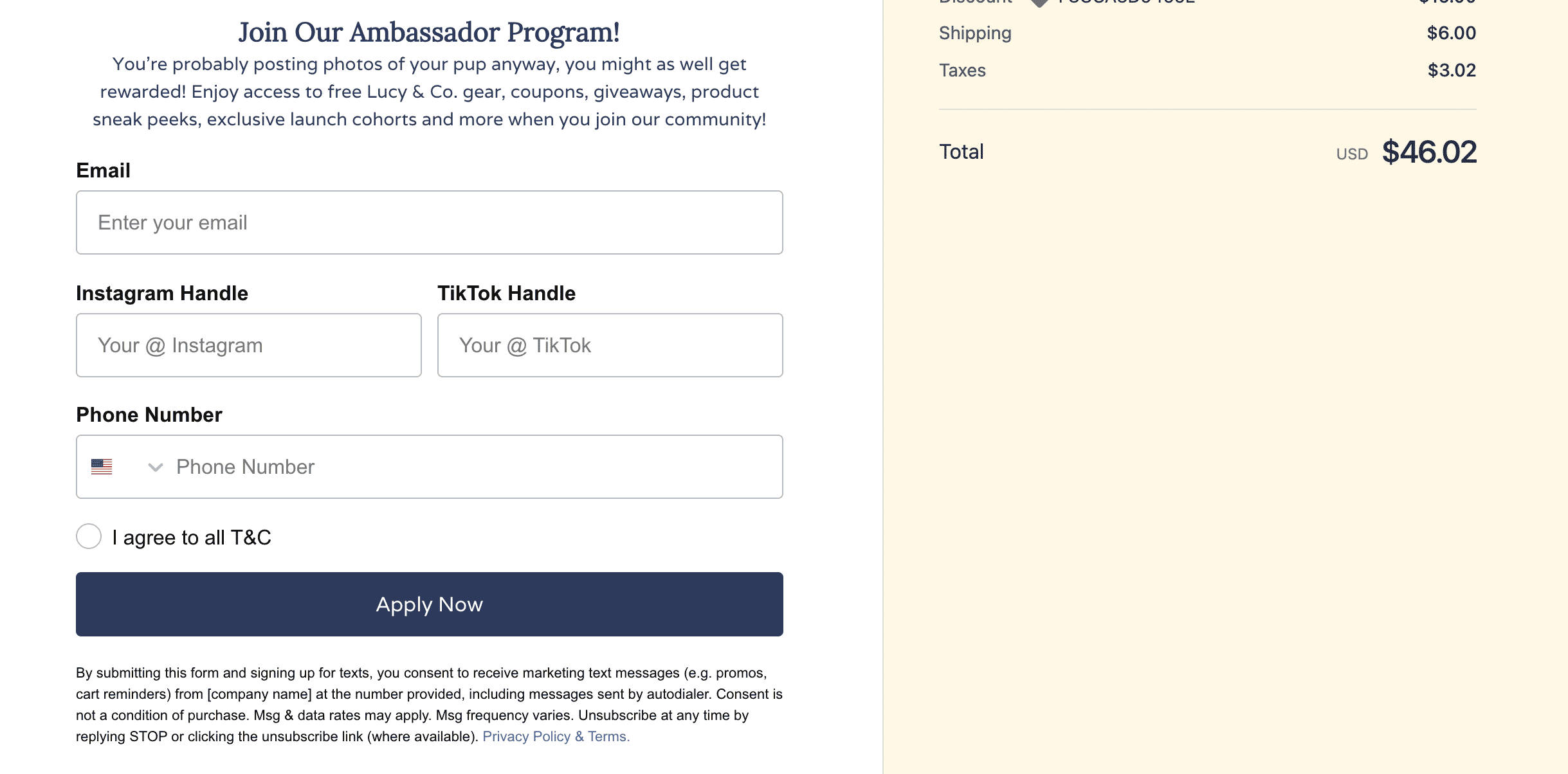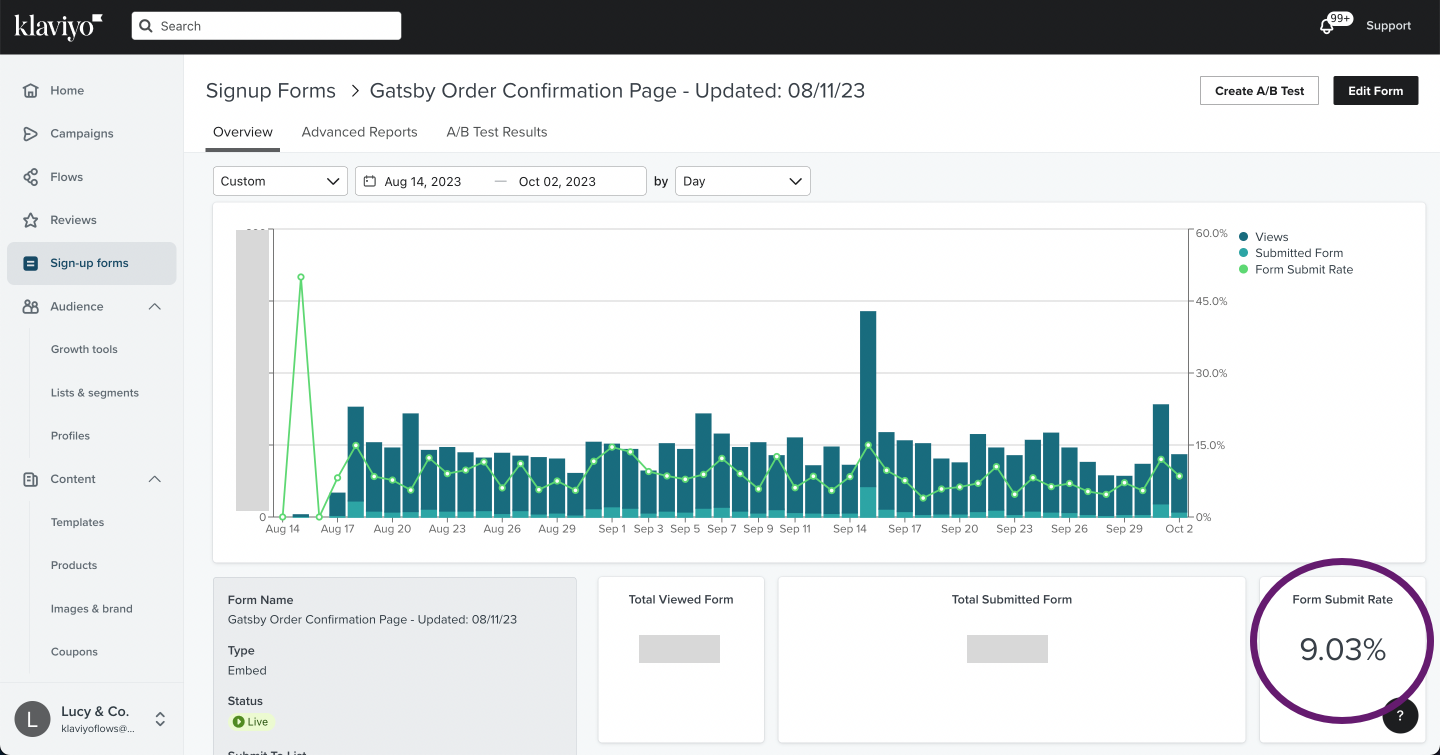 ---
As customers apply to their ambassador program, Instagram and TikTok properties show up right away in Gatsby: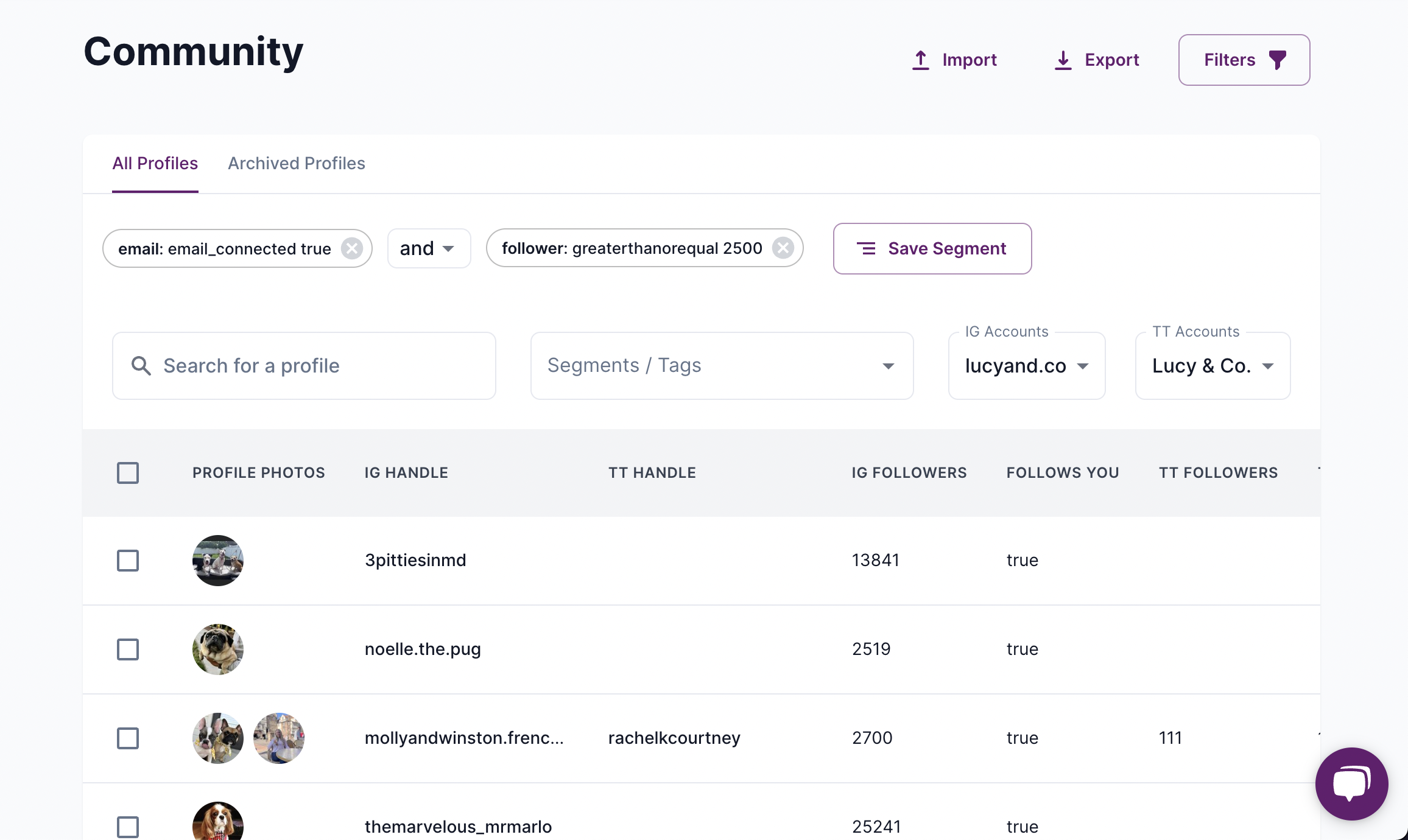 They can filter on this data, and deep dive into each profile's details (UGC tracking starts once you hook up Gatsby):

All of these social properties sync to Klaviyo and Attentive: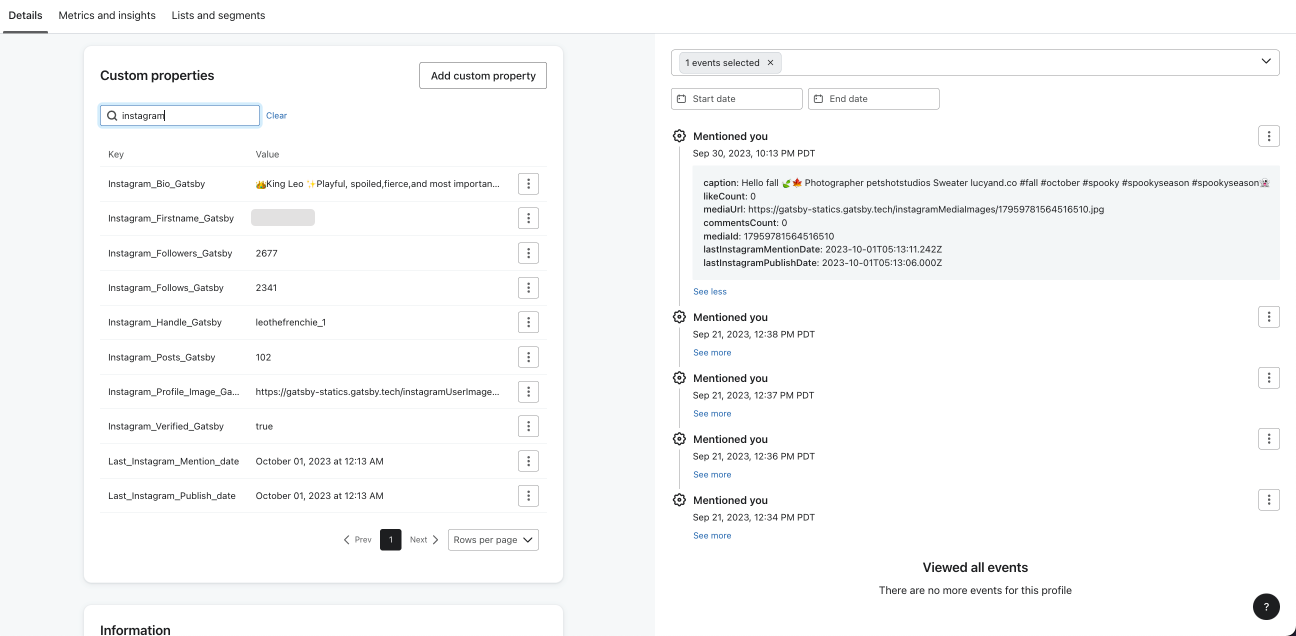 Where they can build Segments based on follower counts & more: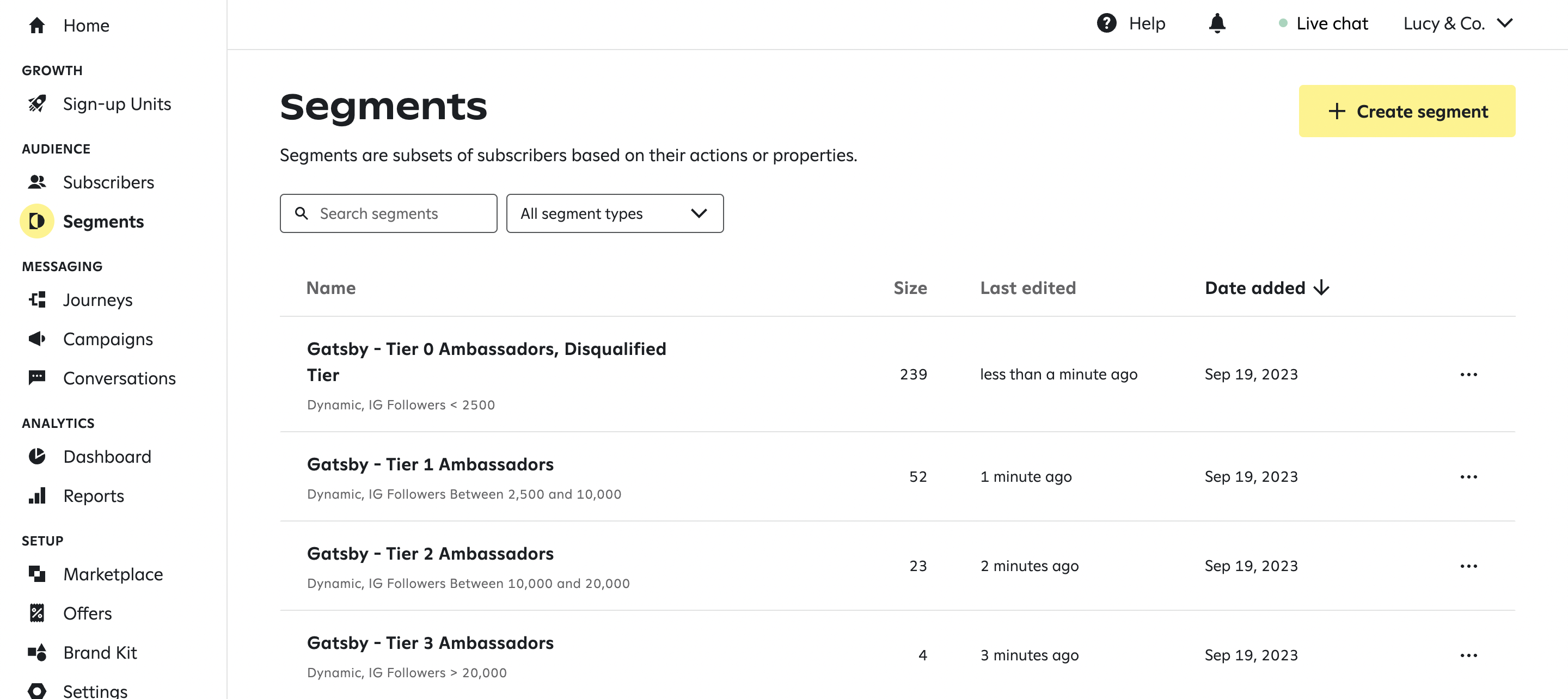 And ultimately trigger Klaviyo Flows and Attentive Journeys based on an applicant qualified or not qualifying for their ambassador program: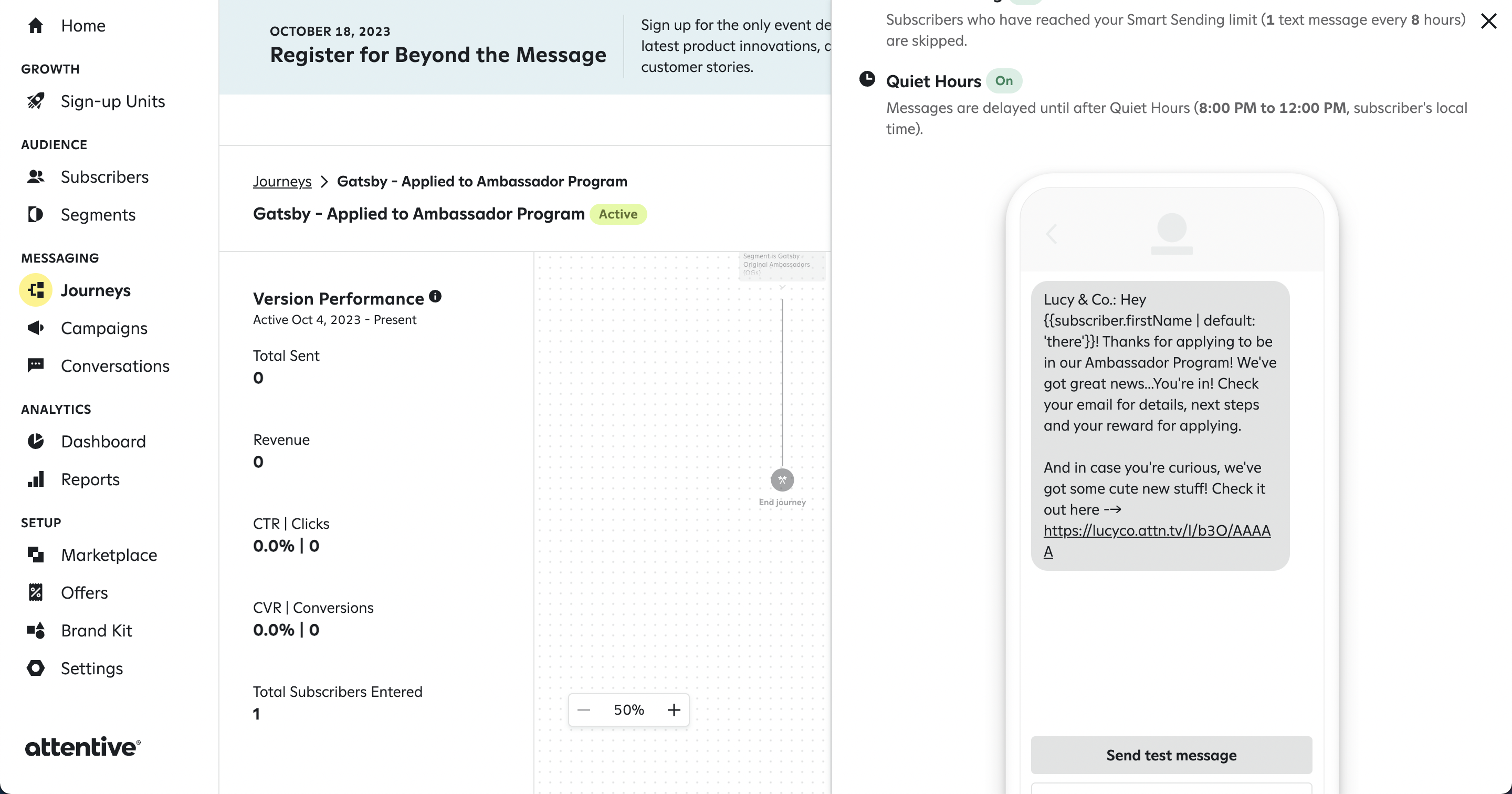 ---
When new ambassadors publish their first Instagram or TikTok UGC, they enter this Klaviyo flow: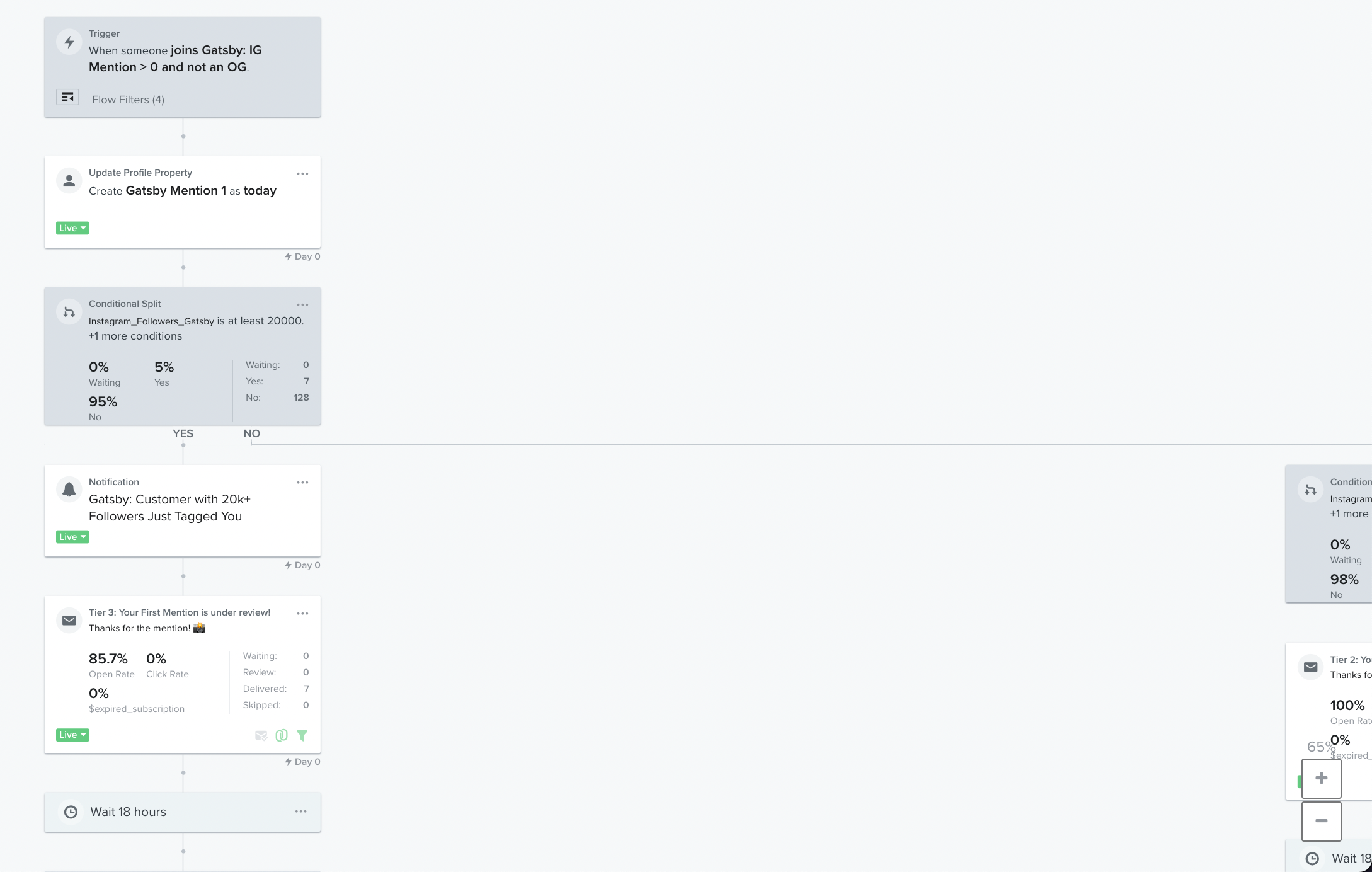 Plus, they simultaneously enter this Attentive Journey to receive a thank you SMS right after publishing content to Instagram: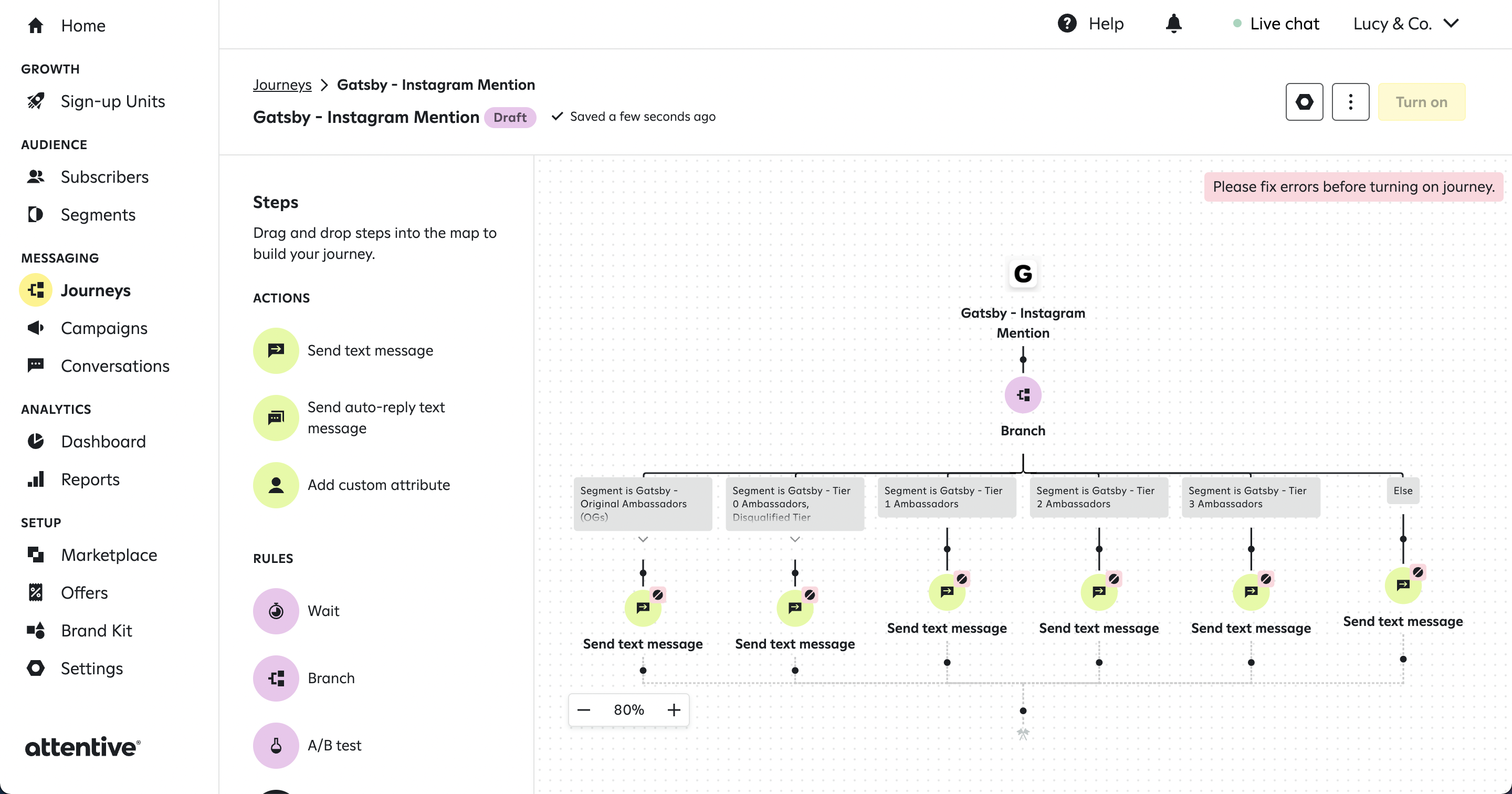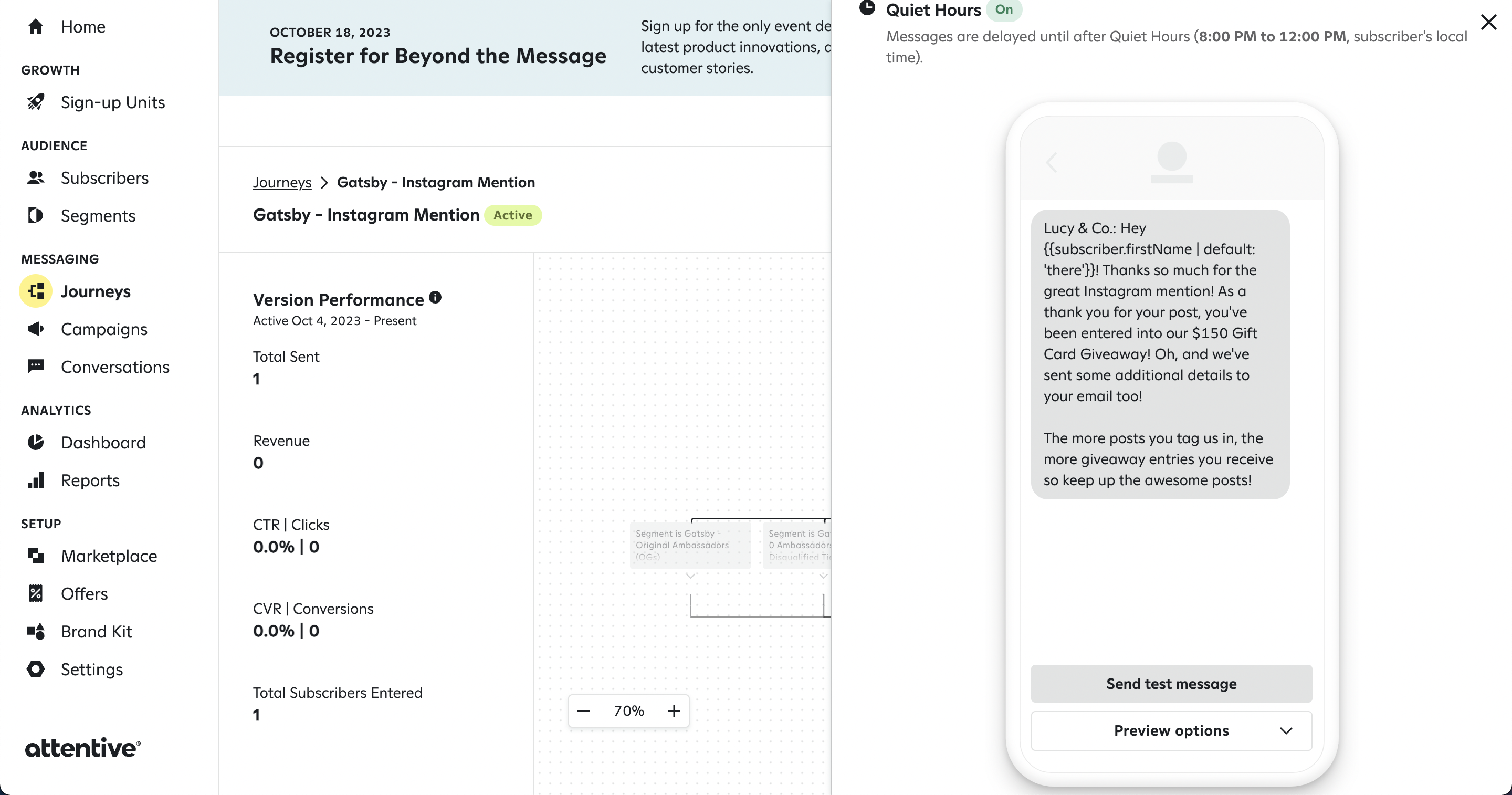 Ambassadors can re-enter the Instagram Mention Attentive Journey every 4 weeks by publishing additional content: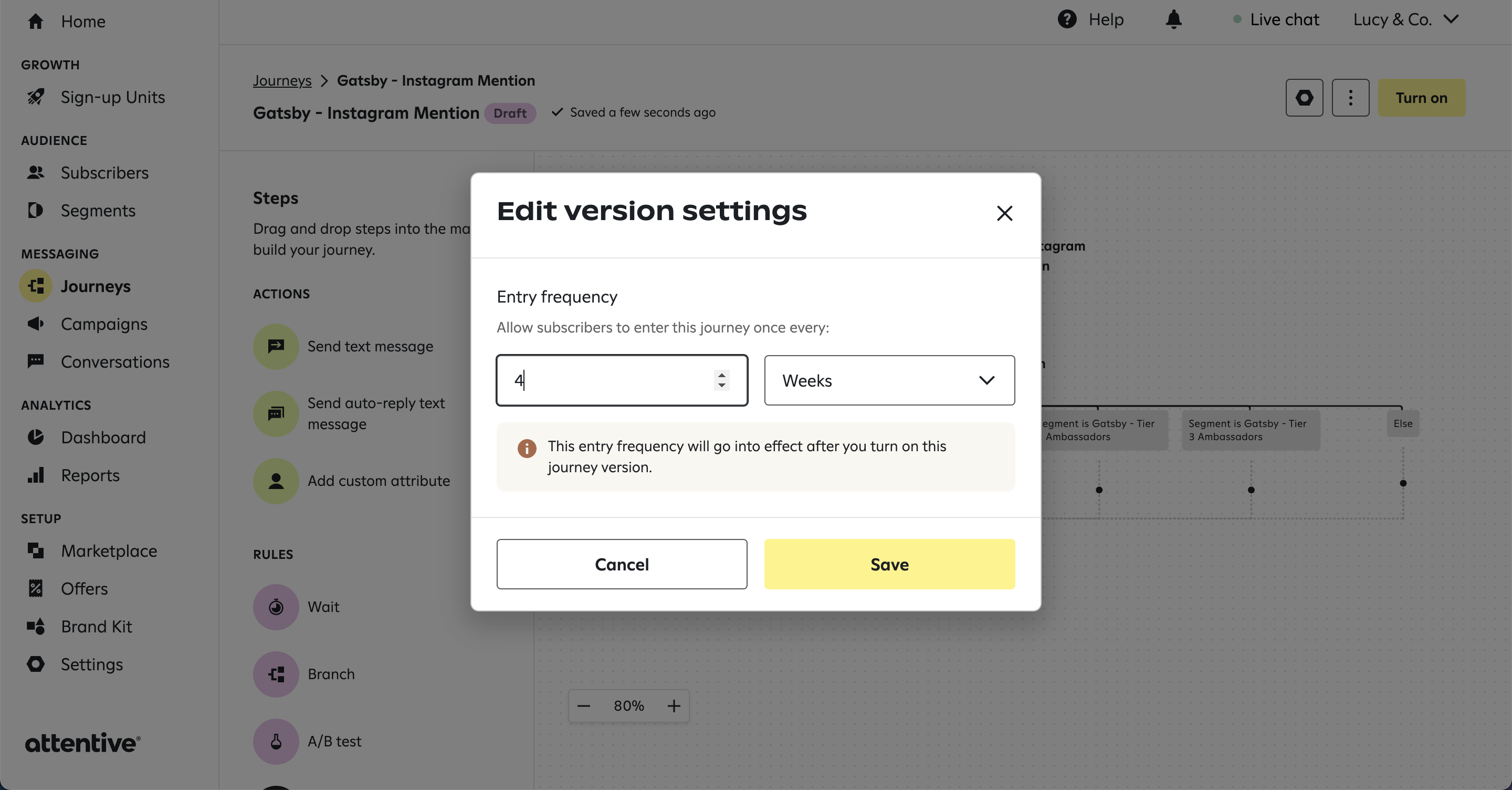 ---
When their original ambassadors, who they imported into Gatsby, publish new social content now, they immediately enter into the following Klaviyo Flow.
They receive a new email for each post, and as these ambassadors post more often, they earn higher rewards: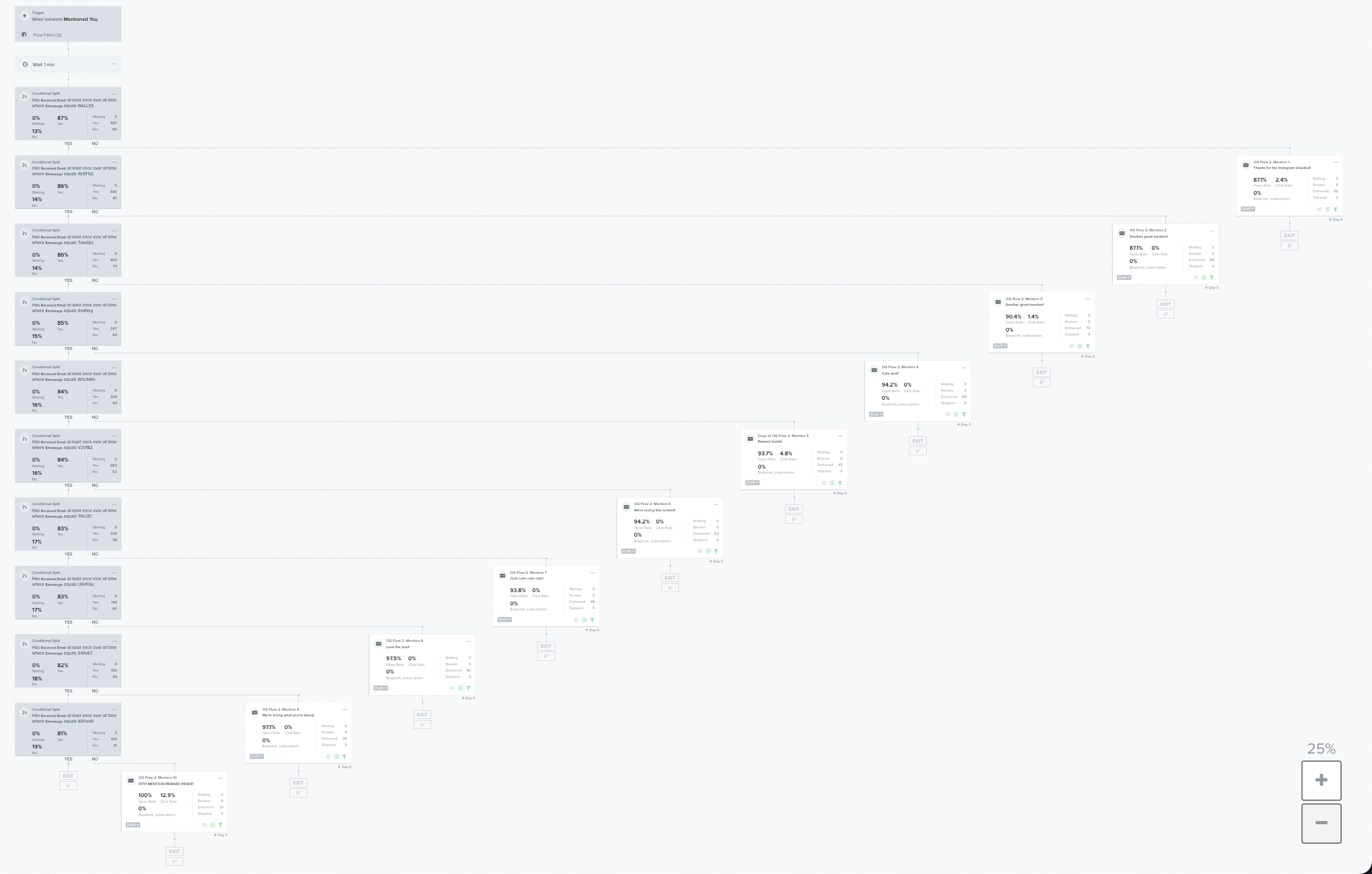 An example of one of the emails these ambassadors receive after publishing an Instagram or TikTok post for Lucy & Co.: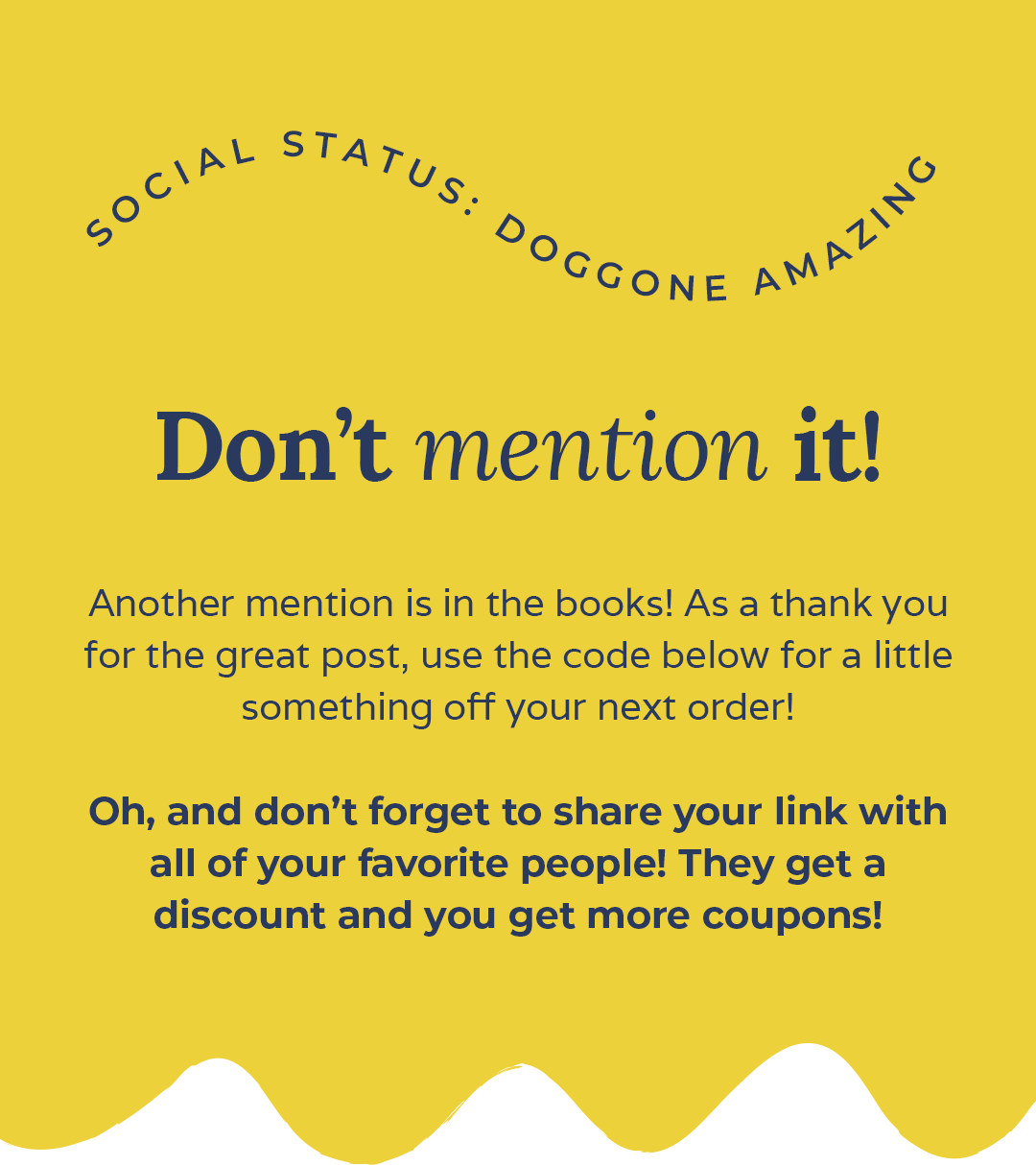 Each month, the brand team simply clones this Klaviyo reward flow, makes slight modifications to the content, and starts it fresh. This keeps their top ambassadors engaged month-after-month.
---
In addition to their automated email and sms flows in Attentive and Klaviyo, Lucy & Co. is also using the Gatsby + Gorgias integration to give their support agents more insights in Instagrams support tickets.
Notice below how this Instagram-Gorgias ticket has the customer's Shopify order history connected to it. Gatsby makes this possible by syncing email addresses to social handles in Gorgias: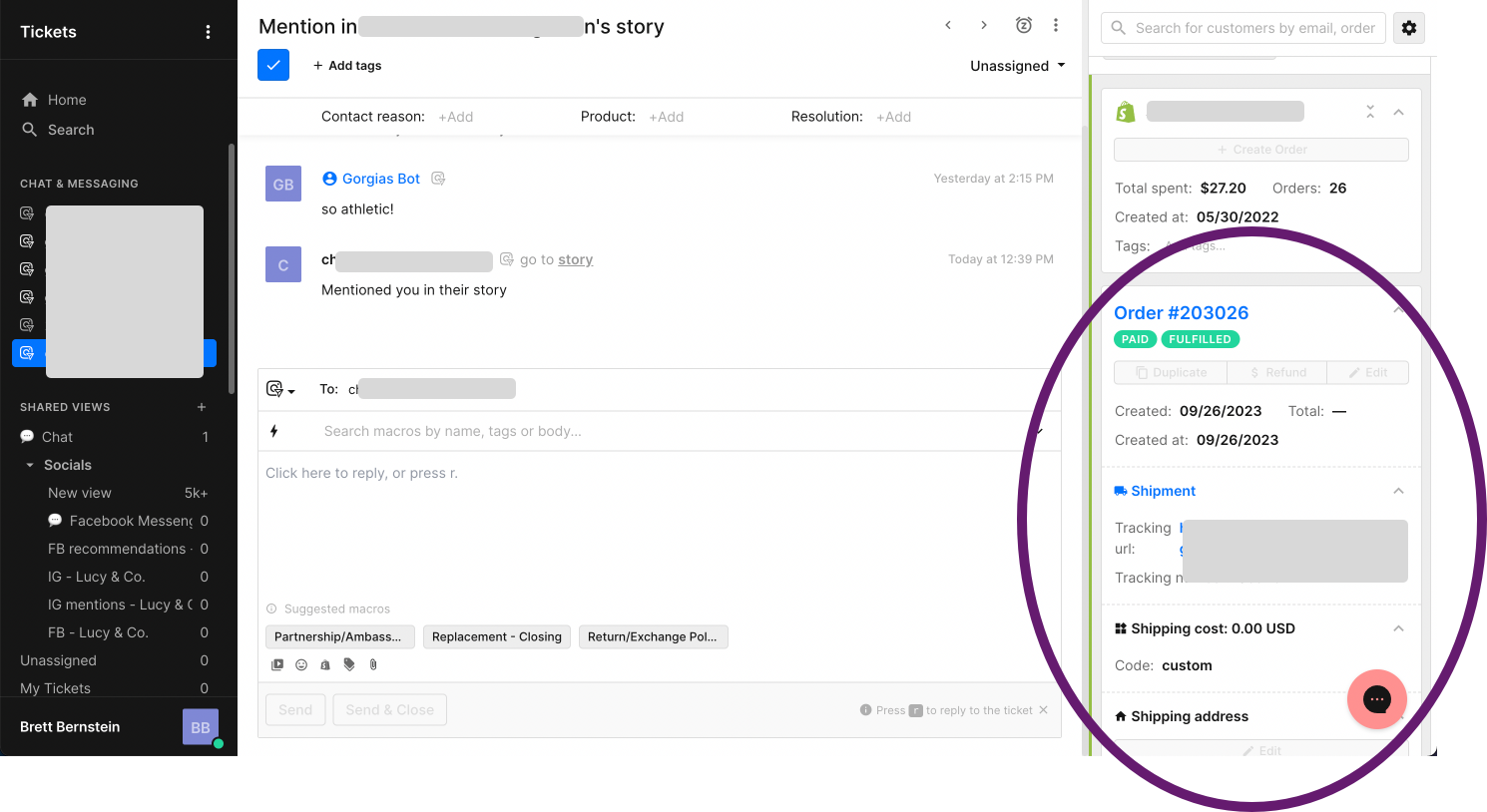 ---
Results
Month 1 - Their "New Ambassadors" Program
540 customers applied to their ambassador program

16% of applicants auto-qualified to be an ambassador by being a customer and having > 2,500 Instagram or TikTok followers
Of these new ambassadors:

26% are in Tier 3 with 20,000 followers
16% are in Tier 2 with 10,000 to 20,000 followers
58% are in Tier 1 with 2,500 to 10,000 followers

36% of these new ambassadors who received Klaviyo Flow 1 converted by posting UGC content for Lucy & Co. in month 1
Applicants get $10 off their next order by applying to be an ambassador and varying amounts off for doing a social post. Those codes alone drove a 2.5x ROI on their monthly Gatsby spend and this is growing even faster now in Month 2.
Month 1 - Their "Original Ambassadors" Program
300 Original / Existing ambassadors were imported to Gatsby
These ambassadors were tagged in Gatsby as Original Ambassadors, this tag syncs to Klaviyo and Attentive to ensure they only get into Flows designed for them

90 of their 300 Original Ambassadors posted content for them for a discount code worth $25 off their next order
63 of their Original Ambassadors did 5 mentions for them in the month, for another reward worth 30% off their next order
31 of their Original Ambassadors did all 10 mentions for them in the month, for a final reward worth 50% off their next order
These Original Ambassadors droves sales for another 2.5x ROI and this is growing even faster now in month 2.
Dog photos!
Who doesn't love dog photos?
See some of Lucy & Co.'s Ambassador UGC from Month 1, encouraged via automation through Gatsby, Klaviyo and Attentive:


"The Gatsby team is awesome! They are super easy to work with, super knowledgeable, and genuinely care about your success as a brand and as a customer using their service. We are really happy!"
Aubrey Bergstrom Marketing Manager
What's next?
Learn more about our Klaviyo Integration
Learn more about our Attentive Integration
Learn more about our Gorgias integration
Schedule a call to see if Gatsby is right for you