Neal Schaffer on his new book on Influencers
Business
Neal Schaffer on his new book "The Age of Influence: The Power of Influencers to Elevate Your Brand"
Neal Schaffer is a global authority on influencer marketing. He speaks at events, universities, and authors books on the subject. He has over 10 years in the industry helping brands maximize their social media impact. We sat down with him to discuss his latest book: "The Age of Influence: The Power of Influencers to Elevate Your Brand" which was published by HarperCollins in March of 2020.
‍
Watch Our Interview On "The Age of Influence"
‍
In this interview, we discuss the history of influencer marketing, how it evolved to include micro-influencers and nano-influencers today, and where it is headed with artificial intelligence.
As Neal alludes to in his book, the two biggest challenges facing digital marketers today are: 1. Measuring ROI and 2. Finding the right influencers to work with.
We touch on ways to overcome these challenges (including Gatsby of course) and why micro-influencers are growing their impact. For example, do you know why people outperform brands on social media, how Disney sources their content, and why two people with the same number of followers get a different reach and engagement? We break this down in the interview and you can dive into all the details in his book.
‍
3 Favorite Quotes from our interview:
"The whole idea of social media is inciting word of mouth"
"Leverage power of people to communicate"
"People outperform brands because we relate more to people"
‍
Order The Book
You can order the book on Amazon and learn more about Neal on his website: nealschaffer.com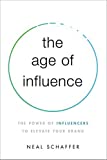 ‍