Simple Strategies for Big Results
Industry
Simple Strategies for Big Results
Not using Klaviyo or you don't work on the email / SMS team? No problem! While we love using Gatsby with your preferred ESP, did you know there are plenty of ways to use Gatsby to grow your community, increase CLTV and expand your reach/engagement without email flows? In fact, Gatsby was initially created as a simple tool to help you connect with your most influential customers (but we just couldn't resist adding more features!).
‍
Here's how you can get going using Gatsby right now with simply your Instagram and/or TikTok account, plus actionable strategies you can start taking to simplify and streamline your social media and community building:
‍
Social Listening
‍
Social listening is a marketing term for monitoring and analyzing any social media content referring to or related to your own channel. This includes comments from your customers, posts of your products, and conversations mentioning your brand or products. No matter what type of content or mention, it's crucial to be listening closely to what people are saying about your brand – there's a wealth of information and insights available! Keeping your ear close to the ground can help benefit your overall marketing strategy, influence product development, improve customer service, identify influencers and help protect your brand's image. But while the benefits are innumerable, it can oftentimes be challenging to keep your finger on the pulse of everything being shared about your brand. Fortunately, Gatsby can serve as your eyes and ears, tracking every time someone mentions or posts tagging your brand on TikTok and Instagram, including on Stories and Reels. Our dashboard logs when someone tags or mentions your brand in real time, so you can see what they're saying and access any content, like photos and videos, in case you want to repurpose them (but more on that later). Here are some of our favorite ways to leveraging your social listening insights:
Elevate your customer service approach: It's no secret that social media platforms are also an active customer service channel – 50% of customers say they would share about an exceptionally good or bad customer experience on social media. While it's always good practice to respond to positive comments and posts, it pays to be vigilant so you can quickly mitigate any potential complaints, even if they aren't on your own brand posts. And when it comes to customer service, time is of the essence – according to The Sprout Social Index Report, 79% of customers expect a response in 24 hours and 40% expect a response in just one hour. See all of your mentions and posts at a glance in your Gatsby dashboard so you can react swiftly to both the good and the not-so-good. This allows you to directly, and when possible, publicly, address any comments, questions and concerns about your brand. It's a simple yet super effective way to turn a customer's experience around.
Increase your engagement: While we don't know all the secrets of the algorithm we do know this: The more active your Instagram or TikTok channel is, the better your posts will perform. Make it common practice to check your comments, tagged posts and DMs and always respond – a comment is best, but sometimes a simple emoji will suffice. You can even respond directly within Gatsby's dashboard. Not only does this build a good rapport with your customers (key for humanizing your brand and building trust), it ensures your posts will get priority in their feed.
Build community: Knowing who is talking about your brand can help you discover potential influencers, brand ambassadors and communities to tap into. This can go a long way when it comes to growing your brand's presence and expanding your reach.
‍
UGC Tracking
‍
UGC or user generated content is any type of original content (images, videos, or reviews/testimonials) created by people instead of the brand. It could be from customers, brand fans, or even your own employees (fun fact: did you know, employee-produced content aka EGC receives 8X more engagement than content shared by brand channels?). UGC is extremely important for your brand – not only is it earned media highlighting your products (which is great for word-of-mouth marketing), it has an enormous potential to influence purchase decisions. In fact, according to a recent study, 70% of consumers consider UGC before making a purchase! What makes it so powerful? It all comes down to authenticity – consumers are more likely to believe UGC over brand-produced content, since UGC is often more "real" and likely to come from actual customers who shared unprompted. UGC can really level up your marketing, and we'll show you how in just a moment, but first things first – before using any UGC, make sure to get permission from the creator. Pro tip: you can make repurpose rights a default clause in your ambassador form to ensure you have it. Once you have that, you can use it to:
Create an ad campaign: Looking for a new ad campaign? Look no further than UGC! Ads featuring UGC creative are one of the most effective types of ads, boasting 4X the CTR at 50% less cost-per-click. One of our favorite ad strategies is to take a great piece of UGC with a simple quote or testimonial from the customer – no offer needed!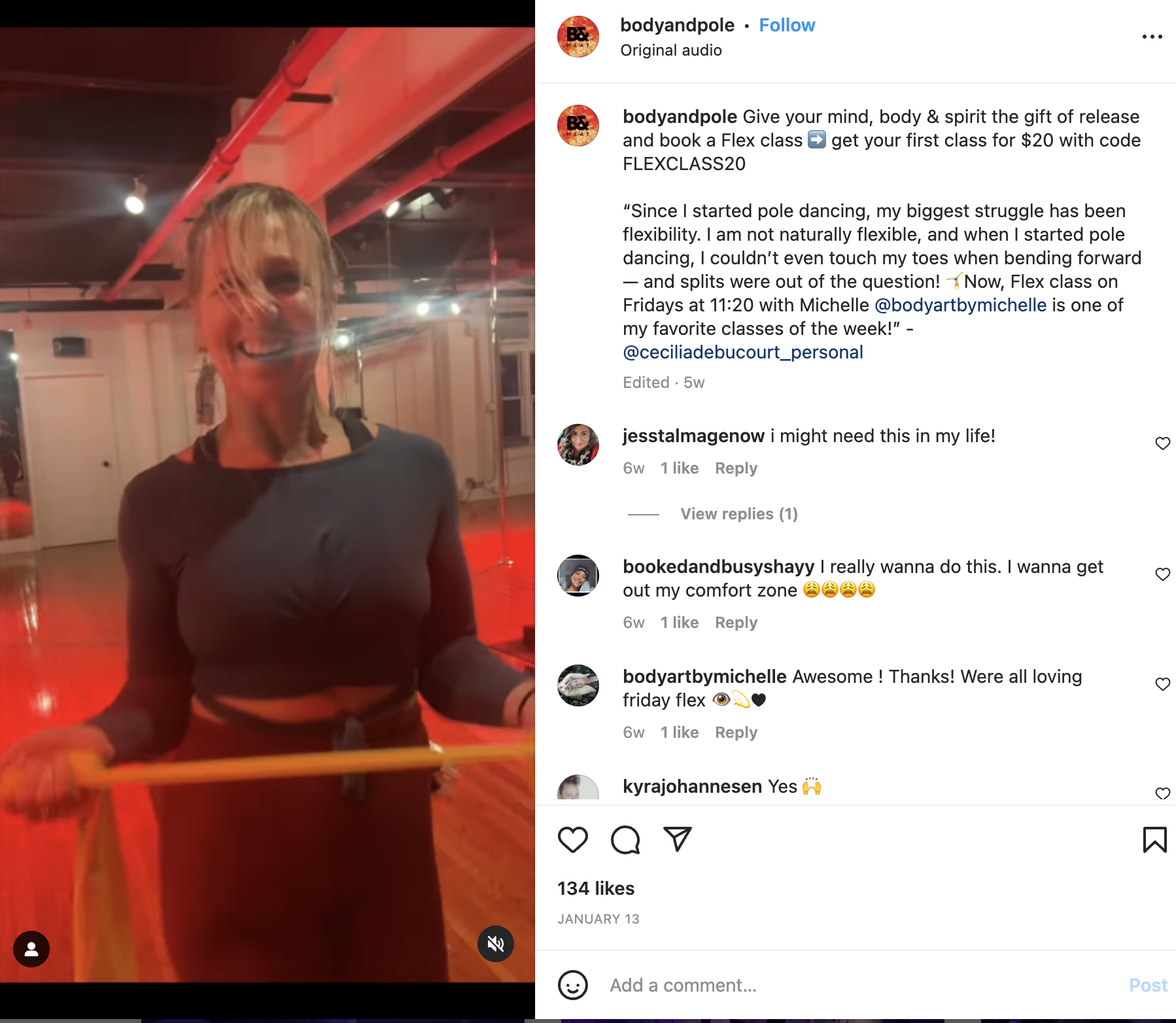 ‍
Build into your content calendar: It's no surprise that marketers are oftentimes overwhelmed by the need for more content – it can be quite time-consuming to conceptualize and create meaningful, engaging content. But having UGC ready for download in your Gatsby dashboard is like having a content gold mine at your fingertips – it can help you avoid a content drought while also serving as social proof. Not only can you directly download the hi-resolution imagery, you'll also be able to see its performance stats at a glance (like engagement or number of likes/hearts), helping you quickly identify which UGC is likely to perform best on your own channel. Pro tip: let Gatsby do all the leg work for you with our shortcut to your most engaged media tags – to see this, look under the "Media" section on the left hand side of your dashboard and find "Top Engaged Media".
‍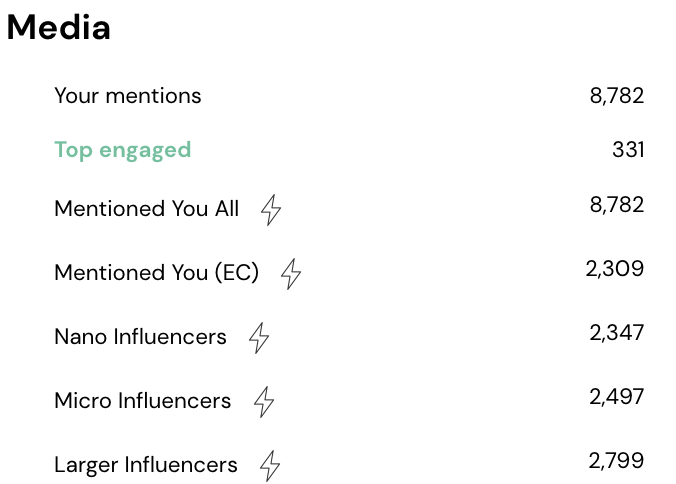 Create a (budget-friendly) influencer campaign: The cost of influencer partnerships can quickly eat up your entire marketing budget (consider this: the average price of a paid influencer post is upwards of $1k!). But with UGC, not only can you save more money, we'd argue you'll see even better results than a paid influencer campaign. It all comes back to authenticity – working with your own customers to help promote a new product launch or sale builds on authenticity while also encouraging people to share more about your products.
‍
Connect with (the Right) Influencers
‍
We've always said your best influencers are your customers! Marketers spend lots of time (and money) trying to vet the best influencers for a campaign. But oftentimes, it feels like throwing spaghetti at the wall – ultimately, you don't know if and who will move the needle until the campaign is over. Gatsby can help streamline your approach to influencer marketing so you can feel more confident about who you partner with for your brand – and get better results. It turns out, most of us (83%, according to a recent survey) are already producing UGC, which means your brand probably has loads of UGC for you to sift through! And here's where Gatsby can help: with Gatsby's insights, not only can you see who is posting about your brand, you can see key social data. By considering the creator's engagement, follower size and post activity, you can be better assured next time you're looking for influencers for a campaign.
Find the right following: Gatsby pre-filters all posts by follower count, so you can immediately see which posts are by nano-influencers, micro-influencers and larger influencers. So when you're looking specifically for micro-influencers for a campaign, you have a list ready to choose from!
Find the highest engagement rate: When it comes to influencer partnerships, engagement rate is one of the best indicators of success – those who have consistently good engagement rates on their posts are most likely to give your brand the best exposure. You can quickly see and sort engagement rates from your customers/influencers using our filtering tool, making it super easy to identify good potential partners.
Identify influencers who've posted about certain products: If you're looking to create a UGC campaign for a specific product, you could spend hours looking at all the posts you're tagged in or you could use Gatsby's tagging feature to tag by products featured. That way, when you want to launch a product-based influencer campaign, you already have content to pull from.
‍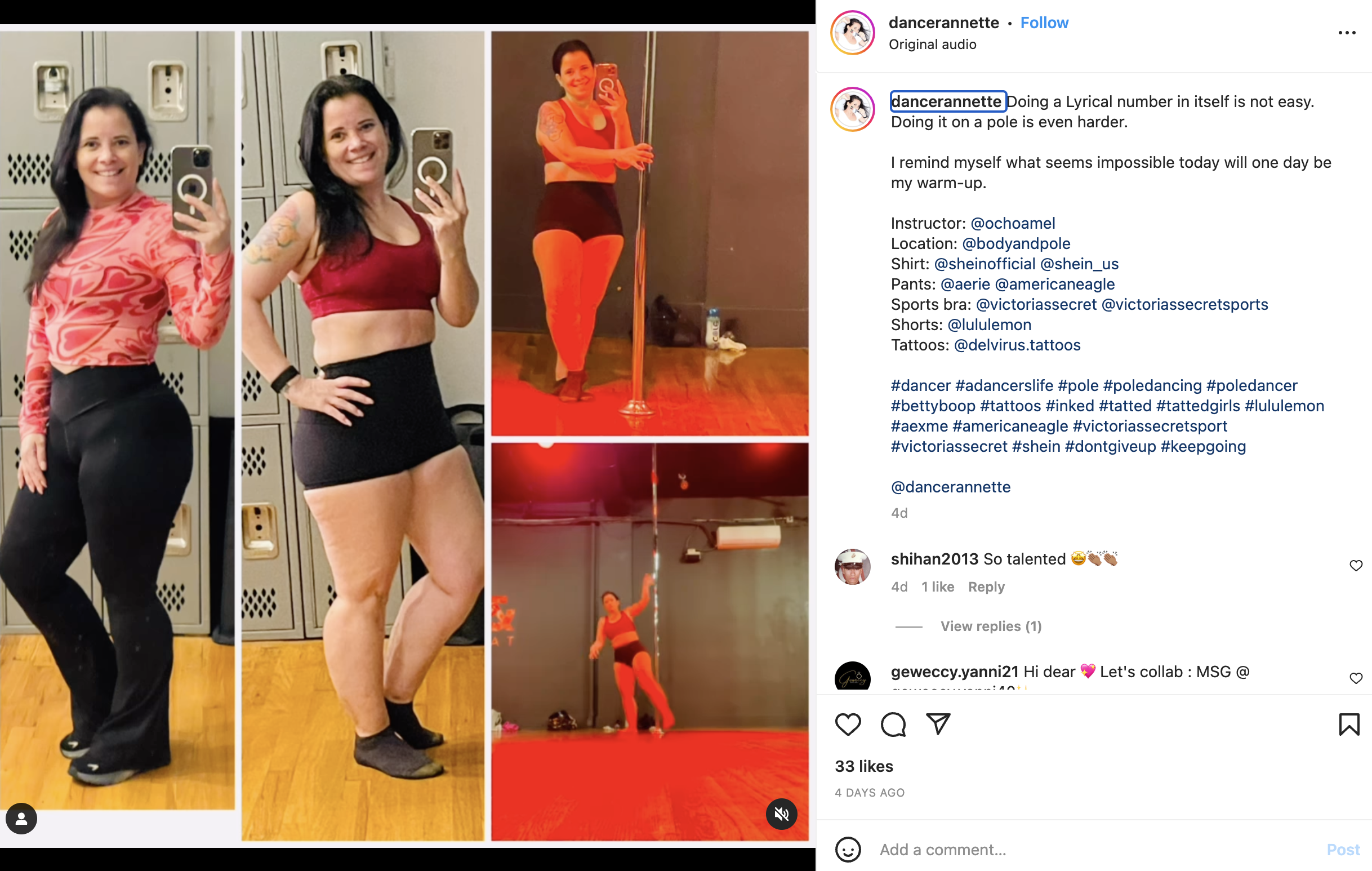 ‍
DM Auto-Replies
‍
Scale and manage your incoming DMs with our new (as of January 2023) DM auto-reply feature. With this new feature, you can utilize keyword tracking to initiate an auto-response to DMs using keywords that you choose. Here are some ways brands are already using this feature:
Manage collab requests: If you're a growing brand, you're likely to see an influx of potential influencers reaching out to offer posts or reviews in exchange for products. You can manage high-volume partnership requests like these by creating an auto-response triggered by keywords like "collab", "partnership" and "influencer". In the auto-reply, you can send them to a landing page where they can fill out a form applying for your program. Gatsby then helps you to identify your best partners by filtering and sorting all your applications.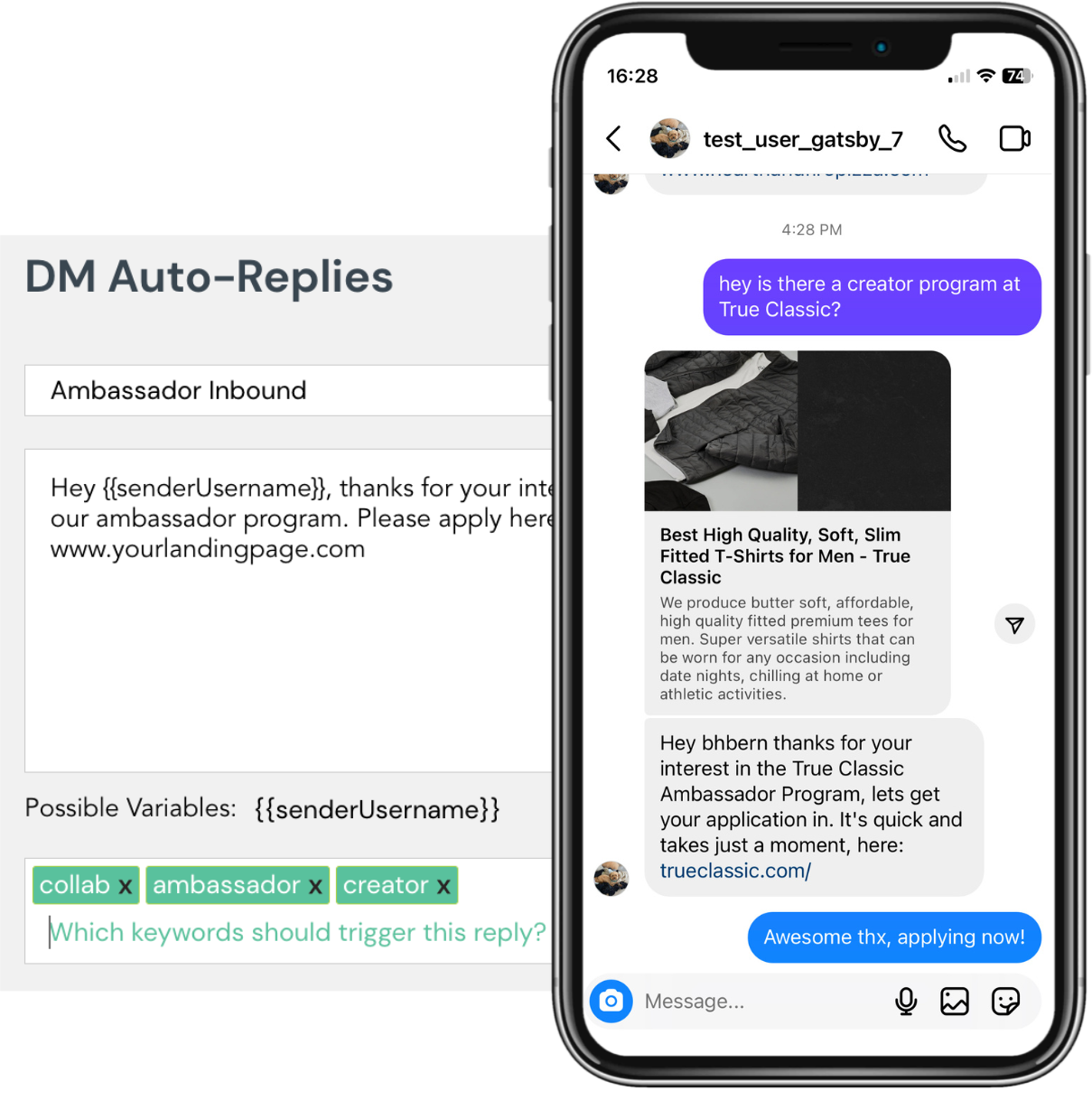 The "Ad Double Dip": Switch up your ad strategy with one of our favorite new uses for DM auto-replies! Instead of running an ad with a promo code, change the CTA so that people must DM with a specific keyword in order to get the promo code. For example, your ad could read "Get 20% off your next purchase – DM us GO GREEN to receive your special code". Then, include the discount code in the auto-reply triggered by the keyword "GO GREEN". While driving conversions, this strategy also encourages more engagement between users and your brand's Instagram channel – ultimately, the algorithm picks up on the increased activity, expanding your posts' reach in their feed so they see more of your content. And that's the double dip!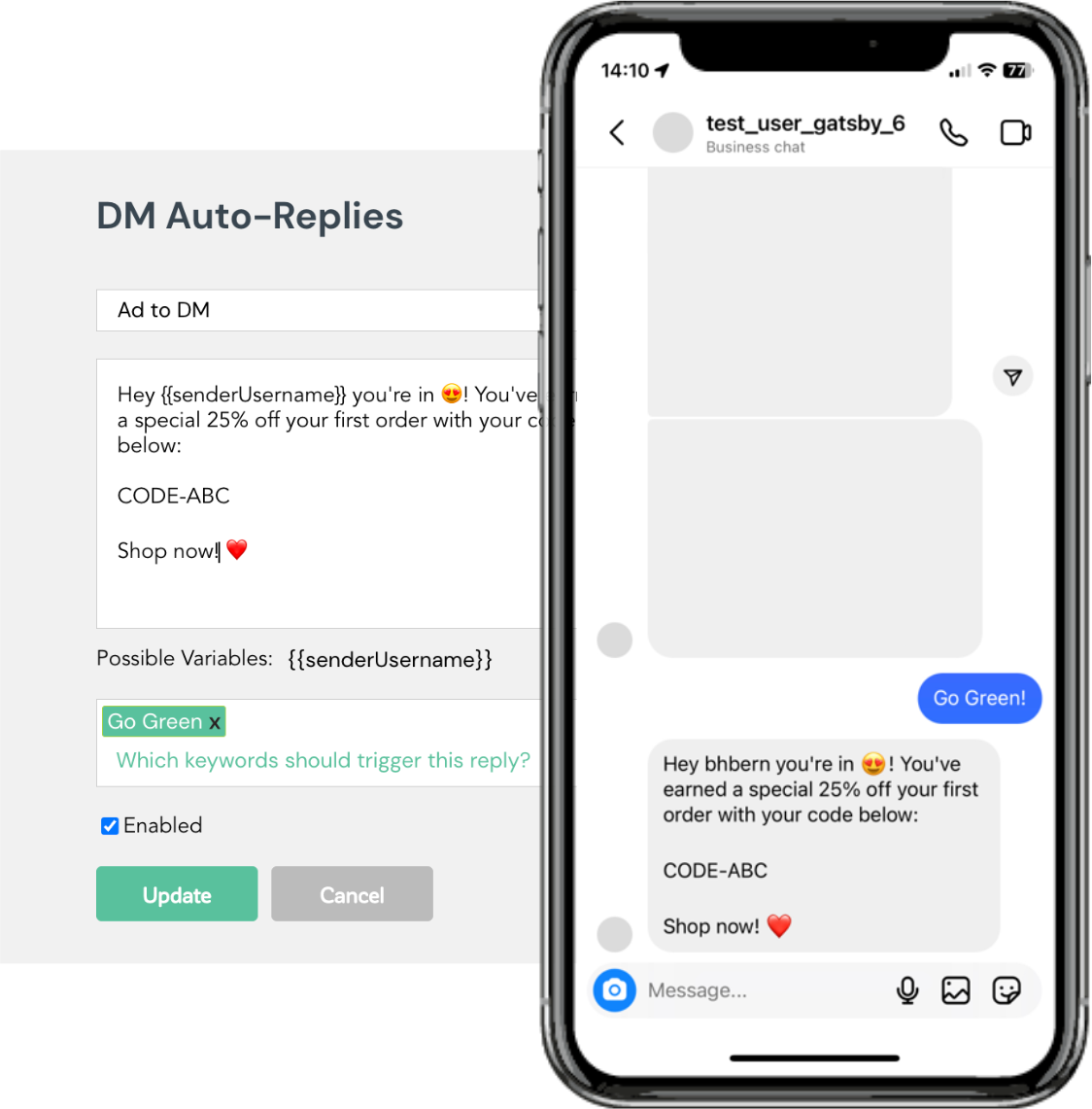 Create a giveaway: To do this, run a giveaway on your Instagram where entrants must DM a specific keyword to your channel in order to automatically enter. If you want to take it one step further, when they send the DM with the keyword, offer another chance for entry by including a link to a landing page in the auto-reply, where they can fill out a form (including email capture) to apply for your ambassador program. When they submit the form, you can link their email and Instagram handle together and even offer extra entries for Instagram and TikTok mentions.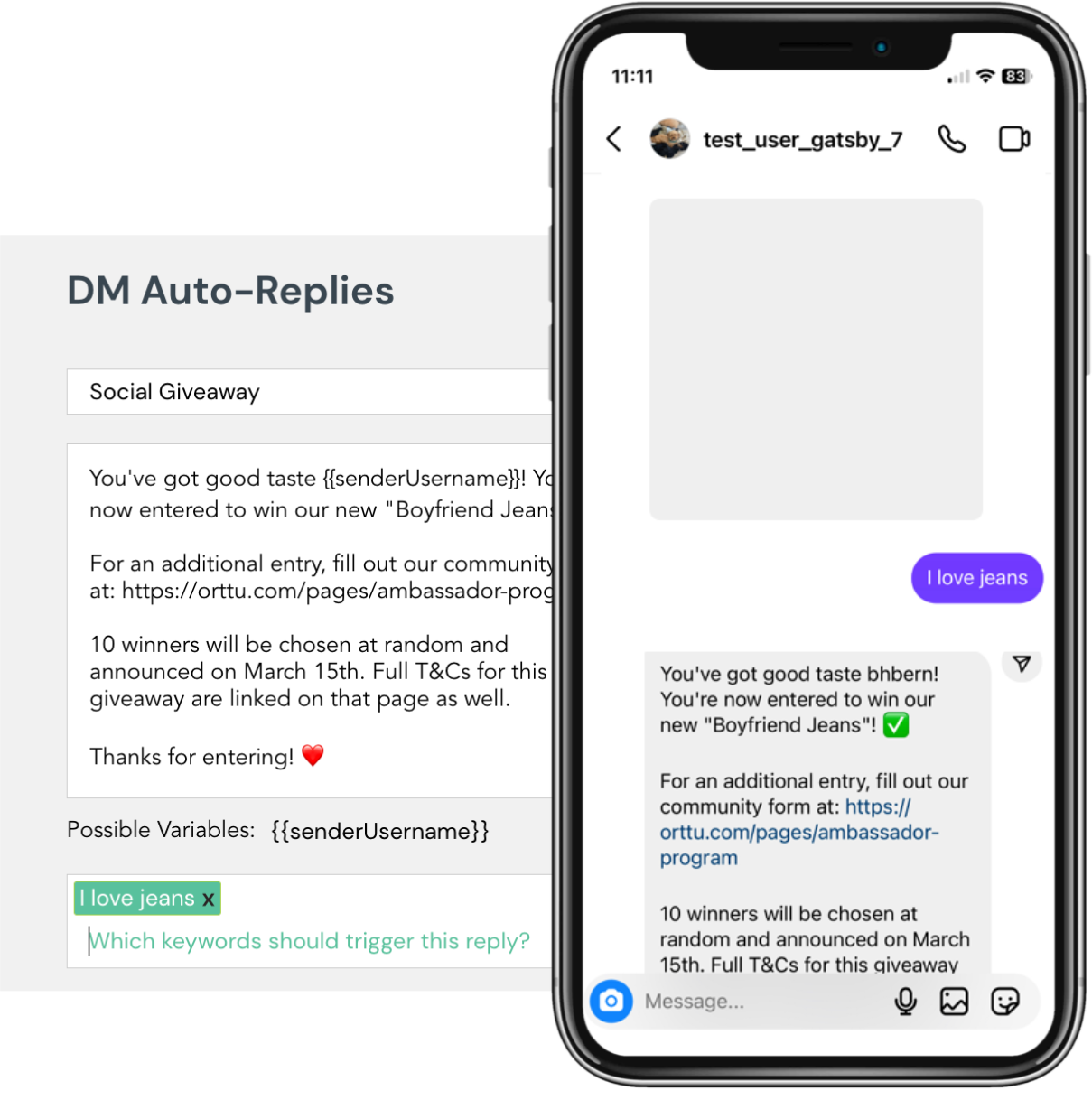 Influencer Management System
‍
With Gatsby's filter tool, you can easily organize and segment your influencers by things like follower size, engagement rate, media type or even tags that you create. This makes it easier to automate a campaign in the future – by segmenting your influencers, you can have them pre-selected and ready to go for specific campaigns. And, you can sort influencers based on who you've already partnered with. Here are some things you can do with this feature:
Separate campaigns: One of the simplest ways to utilize Gatsby as an influencer management tool is to keep campaigns organized and separate. Instead of creating a manual spreadsheet to organize all your separate campaigns, just create a segment within Gatsby, separating influencers by the campaign you'd like to use them for. And if you still miss your spreadsheet, don't worry, you can export your lists as CSV files!
Create campaigns by follower size: It's not one size fits all! Different campaigns have different needs. While you may have one campaign that's perfect for nano-influencers, another might be better suited to those with a slightly larger following. With Gatsby, you can see everyone who has mentioned you, and organize them by follower count, either using our pre-filtered selection (broken down by nano-, micro- and larger influencers) or choosing your own parameters.
Create campaigns by product: Using Gatsby's tagging feature, you can tag posts however you choose, including by which products are posted/mentioned. That way, when you want to do a campaign promoting that product, you already have an influencer cohort of real customers who purchased that product ready to go!
There's so much you can do with Gatsby, even without taking advantage of our integrations! But it doesn't stop there – when you're ready to take it one step further, we can help get you set up using email flows to further automate your approach to influencer marketing and community management. Just send our customer success team a message and we'll be there to help you out!