Your Instagram, Everywhere
Connect Instagram & TikTok data to your favorite apps so you can automate influencer programs, grow your community, and glean valuable insights to beat your competition.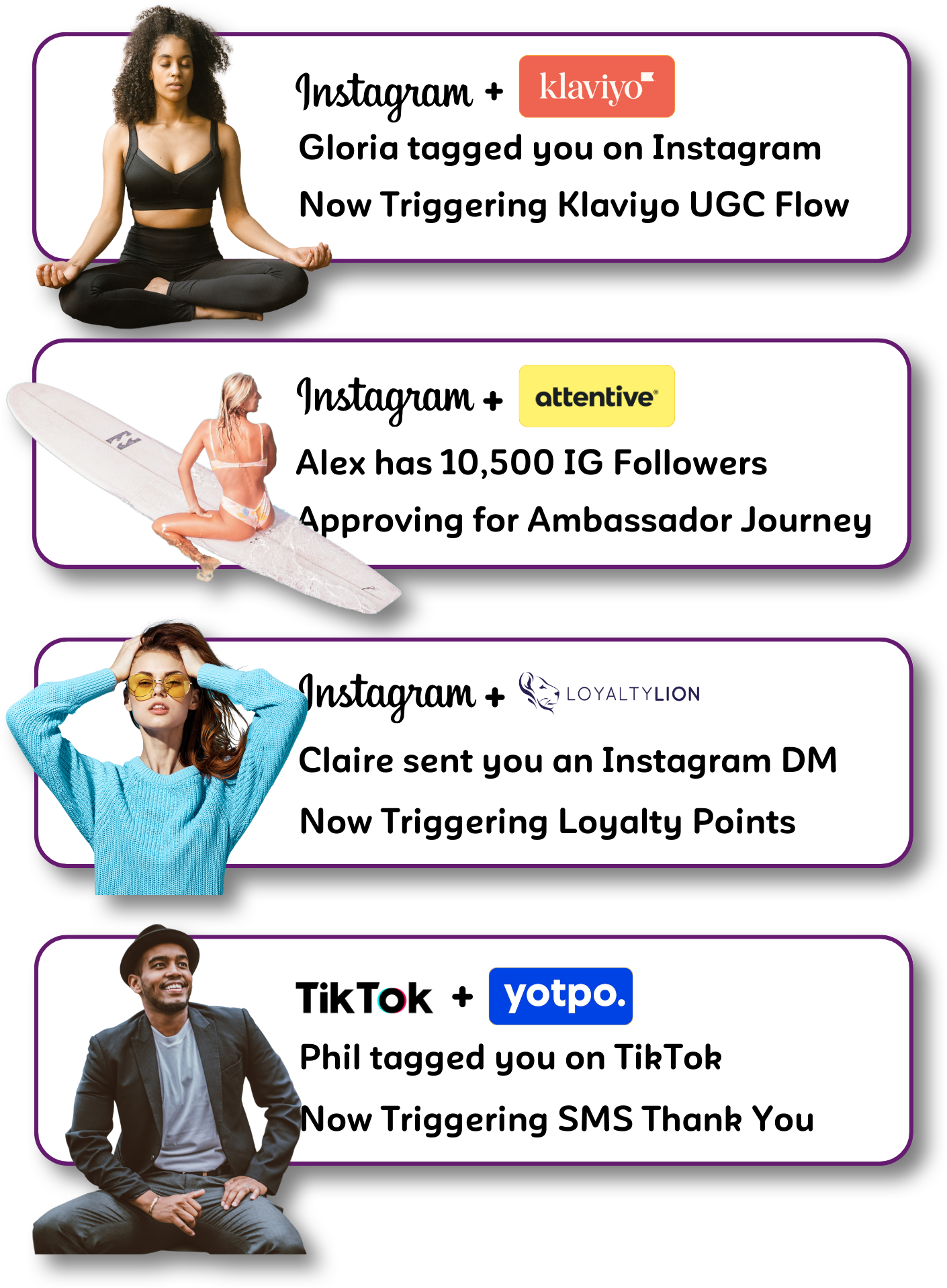 Some of our happy customers:
You will track every Instagram Story, Post, and Reel you're tagged in and can integrate these events with your marketing stack.
Want more customers to follow you on Instagram?

Gatsby gives you a Klaviyo Flow for that.



Want to source authentic ambassadors?

No problem, segment customers into an automated ambassador program.


Want to give loyalty points when customers engage?

Sure, connect Gatsby to one of our loyalty partners.




Want to save time managing DMs and all the Stories you're tagged in? Easy, we have auto-replies with targeted filters.


Need to measure the value of all the social work you're doing? Glean insights like:


How much more does an Instagram follower spend on your goods vs a non-follower?


How long after a customer follows you do they purchase again? Insights like these are now possible.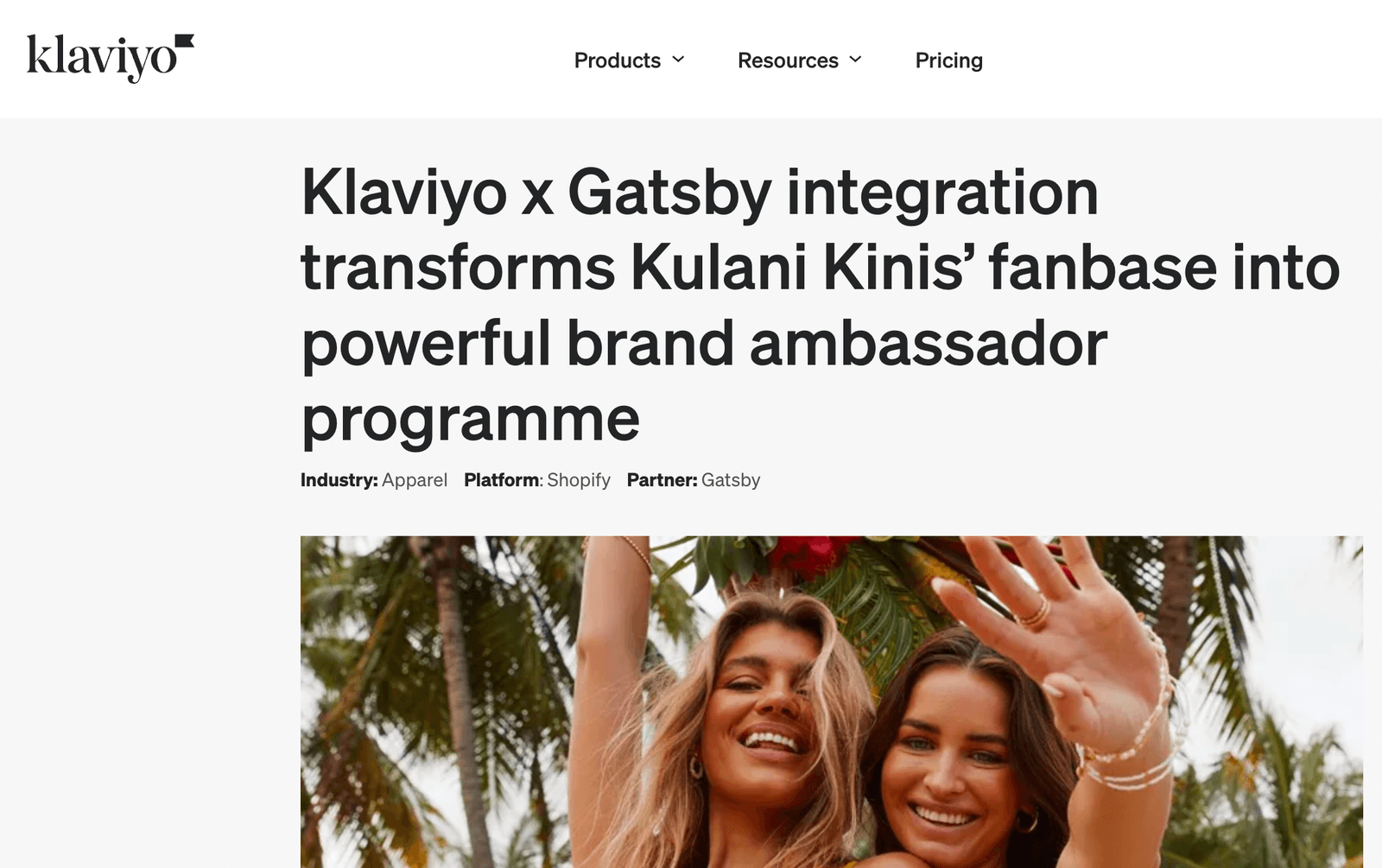 "Gatsby is allowing us to really scale up. I don't know how else we would be able to encourage all our customers to talk about Petal & Pup, and actually be able to reward and thank them for all their great content!"
We don't just play well with others technically, we've actually made friends in the ecosystem. Our buddies Klaviyo, Yotpo, Gorgias and many more - all agree that Gatsby unlocks new use-cases across your marketing stack.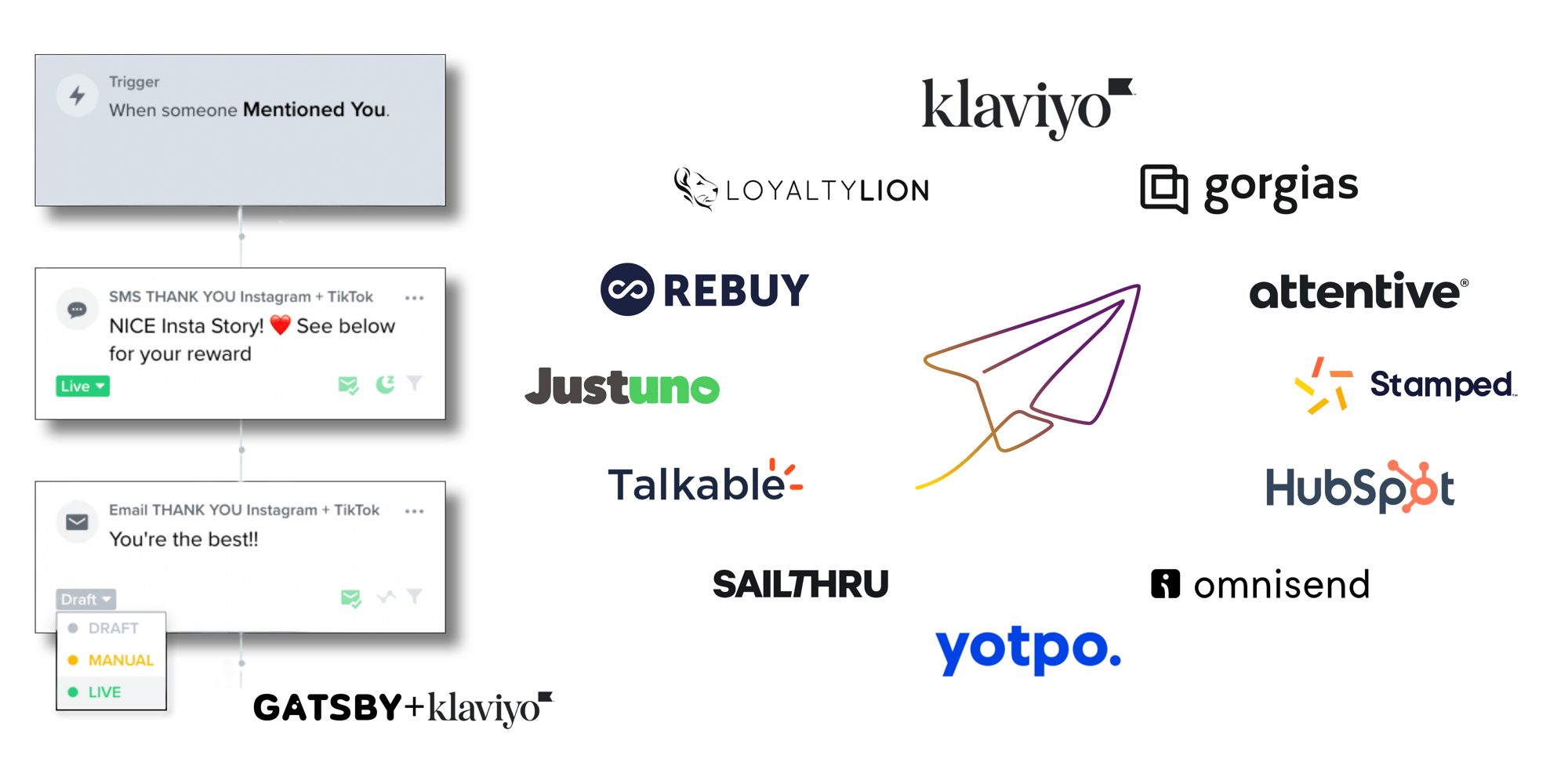 Gatsby is the ultimate social manager's dream, packed with all the features you need straight out-of-the-box:
Customizable ambassador program

Automate it with Klaviyo flows




Auto-respond to common DMs

Save your UGC from Instagram & TikTok

Generate Shopify codes for ambassadors




Track every ambassador referral order




Calculate engagement rates and more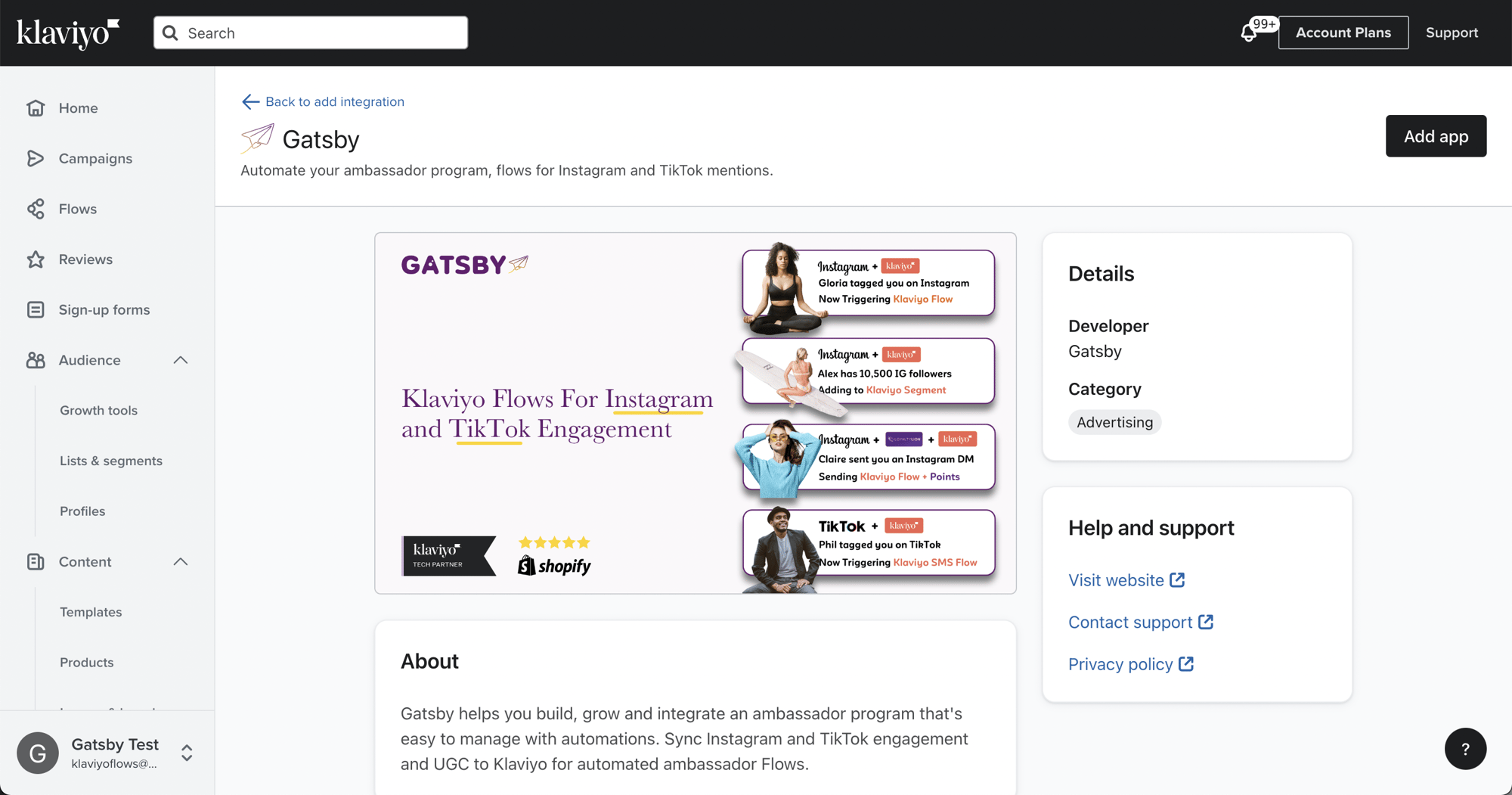 Gatsby just became one of Klaviyo's first few partners to be listed in their new Integrations Directory! It's a huge honor and testament to the value of syncing Instagram insights to Klaviyo. Learn more!
Gatsby is the ultimate wingman for any ambassador program. With our one-of-a-kind integrations, you have complete flexibility to make it your own. Just stick with us through the setup process - we promise it'll be worth it.
Depending on your program's complexity and email designs, setup can be a little as one day or up to a couple weeks. We'll guide you through the following steps:
1. Connect Instagram to track everything
2. Create auto-replies to popular DMs
3. Integrate with Klaviyo, loyalty or other tools
4. Add a Klaviyo ambassador signup form to your site
5. Activate Klaviyo Email & SMS Flows for Instagram, automate your ambassador program
*Klaviyo is the most popular but we offer similar integrations with Yotpo, Omnisend, Sailthru and more.
With Gatsby keeping tabs on all your social activity and connecting it to your marketing tools, you've got boundless possibilities for how to utilize it. Let your creativity run wild!
Want to trigger loyalty points for mentions? No problem.
Want to offer $15 off to customers with 1,000 to 10,000 followers who tag you in content? Easy.
Want to be notified with a celebrity applies to your program? Absolutely.
Once you have Gatsby up and running, how often you check in is totally up to you. But let's be real, the clients who use their community the most get the most bang for their buck. So, when launching a product, hit up Gatsby to find the perfect customers to spread the word. And if you're on the hunt for new ambassadors for a specific campaign, check out who's pumping out the most engaging content for you. Trust us, it's easy and even a little bit fun!
"It makes our lives so much easier! Highly recommend Gatsby!
We know we land in the dog-eat-dog world of marketing budgets, where if a tool is not delivering a positive ROI, it should be cut. Luckily, we take your success to heart. Between time saved, content published, and revenue driven, hundreds of happy customers can't be making this stuff up.